Hangman DS
From GameBrew - a wiki dedicated to Video Game Homebrew.

Hangman DS is a classic word game clone to the Nintendo DS, featuring an English dictionary.
User guide
Guess the word chosen by the console, letter by letter. If you guess the letter correctly it will appear in the corresponding black space of the word. On the other hand if the letter is wrong, a part of a body will be drawn on the gallows (head, body, right arm, left arm, right leg and left leg).
You win the game when you successfully guess the word before the stick figure is being hung.
Controls
Operate with Stylus.
Screenshots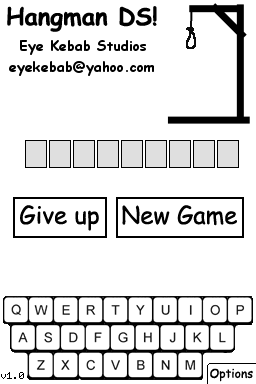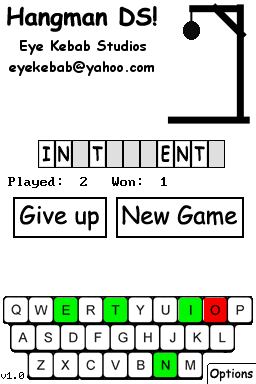 Compatibility
Tested on:
iPlayer (OS 1.2 firmware 1.0.6)
TTDS/DSTT (firmware 1.17)
R4DS R4 Wood (firmware 1.09)

External links