HTE: Hack To Escape
From GameBrew
HTE: Hack To Escape
General
Author
4n4bol
Last Updated
2010/09/01
Type
Adventure
Version
01092010
License
Mixed
Links
Download
Website
HTE: Hack To Escape (Spanish) is an adventure game for the NDS, in which you have to look for items and solve puzzles to escape the church. There are 2 chapters in this version.
It was participated in the Scenery Beta 2010.
User guide
Round the year 2014, an endless sadness and darkness is over the entire planet. The cause of this situation is a nuclear accident, caused by a hacker.
In the center of everything, Maik, a hacker, is there to help them survive and which fall all the blame.
His old friend and rival, Laison, has locked Maik in a bunker. You have to use all your skill and intuition to save Maik and put Laison behind bars.
A walkthrough is available here.
Controls
Stylus - Interact with the items/puzzles
A - Select the menu option, Move text in the introductions (hold to increase the speed of the text)
B - Go back into the menu and all the puzzles
R/L - Previous/next item in inventory
Screenshots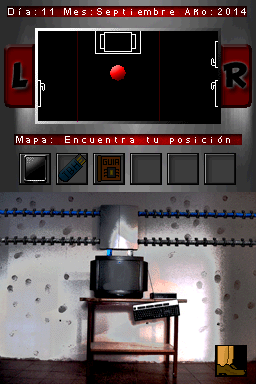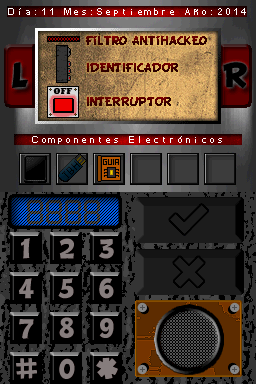 Compatibility
Tested on M3DS Real (firmware 4.8).
Changelog
version 01092010
Fixed various bugs.
Music added.
Improved text engine, both graphics and code. Now you can increase the speed of text.
External links