Finger Monkey and Inverto Goose
From GameBrew
Finger Monkey and Inverto Goose in Happy Bunny Love Land
General
Author
Kung-Fu Fetus
Last Updated
2006/08/13
Type
Platform
Version
2006
License
Mixed
Links
Download
Website
Finger Monkey and Inverto Goose in Happy Bunny Love Land is a DS homebrew platform game which uses shapes drawn on the touch screen to activate special moves and attacks.
It was submitted to the NEO Summer Coding Compo 2006.
Installation
Use either version according to your device:
FMandIG.nds - For flashcard and emulators.
FMandIG.ds.gba - For Supercard (change the extension to .nds).
Controls
Left/Right - Move
Up/L - Jump
Use the touchscreen to draw shapes to do attacks and special moves.
Screenshots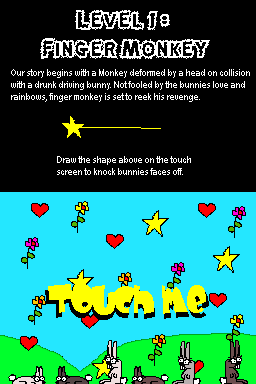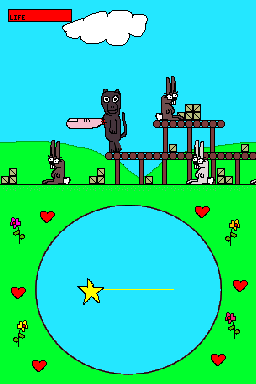 Media
NDS Game: Finger Monkey and Inverto Goose (KungFuFetus)

Compatibility
Tested and works on Dualis DS emulator and Nintendo DS lite with Supercard lite.
Known issues
When using emulator Dualis DS, touchscreen background colour appears black instead of sky blue.
External links