FeeDaFish
From GameBrew
FeeDaFish
General
Author
Dieudunet
Last Updated
2006/03/29
Type
Arcade Games
Version
2006
License
Mixed
Links
Download
Website
FeeDaFish is a DS homebrew Aquarium game by dieudunet. The game is inspired by Insaniquarium and all of the graphics come from it.
This homebrew was submitted to the NEO Spring Coding Competition 2006.
User guide
The goal of the game is to collect 50 bonus items from the upper screen, complete the egg and win a new character.
To collect bonus item, you need to buy, feed and raise fish.
A maximum of 15 fish are allowed, you can also buy some help at the Shop.
Hints:
In some case, Up and Down button can help.
When the bonus bar is full, hit L+Right.
Controls
Play with Stylus.
Tap screen - Add food
Tap fish twice - Make fish jumps
Tap items - Use items
Tap mermaid - Get out
R - Run into the Shop
Screenshots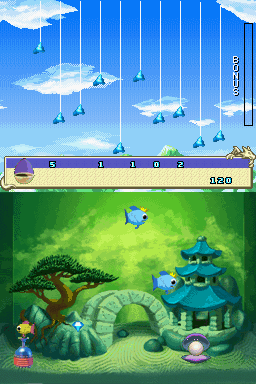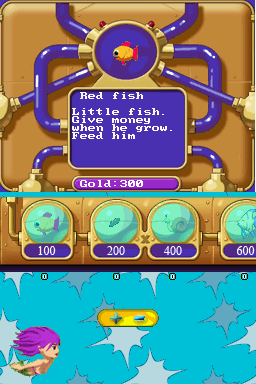 Compatibility
Tested by the developer on NDS with flashme v6.
External links