EnigmaNDS
From GameBrew
Enigma NDS
General
Author
mincemeatteam
Last Updated
2011/07/01
Type
Other Apps
Version
1.0
License
Mixed
Links
Download
Website
EnigmaNDS is a Enigma machine simulator playful and educational purposes.
Implements the algorithm required to simulate the three-rotor Enigma machine, and can select from five possible addition to the functions of steckers.
It was participate in the Scenery Beta 2011.
User guide
The Enigma machine is the machine used by the Germans to encrypt their communications in the 2nd World War. It was a transposition cipher machine by rotating.
EnigmaNDS simulates the original version of the Enigma, which worked with 3 rotors, selected from among 5 possible ones, it allows setting the position and number of the rotor, and we also simulated the function of the steckers (a front panel that allowed to perform a previous permutation to encryption).
Theoretically the application can encrypt text with a key (rotors, initial position of the rotors and configuration of the steckers) and if later, the text shown above, the ciphertext is re-encrypted with the same key, you get the original text.
That is, if HELLO is encrypted, the machine encrypts it as OIIQ. If you put the rotors back in the position for the encrypted code OIIQ, the screen would appear the decrypted text: HELLO.
Controls
Operate with Stylus.
Screenshots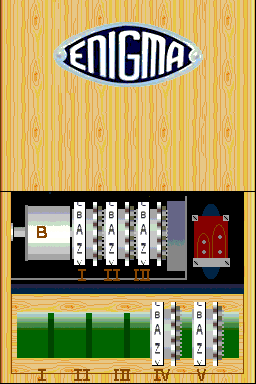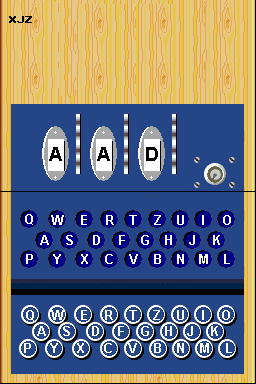 External links