Element DS
From GameBrew - a wiki dedicated to Video Game Homebrew.
Element DS
General
Author(s)
Kukulcan, Lobo
Type
Puzzle
Version
Update
Licence
Mixed
Links
Download
Website

Element DS is inspired by the Flash game COLLISO DS created by kurohako. The DS version has been redesigned and made from scratch and features about 160 levels.
This homebrew was released as en entry to the the NEO Summer Coding Compo 2008 and ranked 5th.
User guide
The objective is to remove all the blocks by dragging them toward the blocks of the equal symbol/color.
Two blocks of different color will reverse/swap their colors once they collide. The blocks won't stop until they either hit another block or the walls, meaning that they travel either horizontally or vertically unless they meet the obstacle in their path.
Levels
001-010 - Original levels from the Flash version (Kurohako)
011-100 - New levels by Lobo
101-160 - New levels by Kukulcan

Note: Ghost Mode can be unlocked when you you finish a level in less than 50 moves.
Controls
Stylus - Move blocks (return to centre to cancel move)
L - Music on/off
Screenshots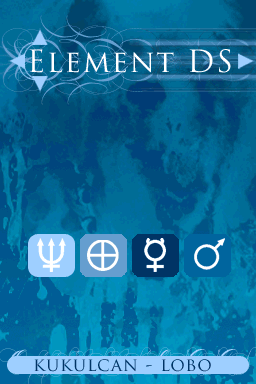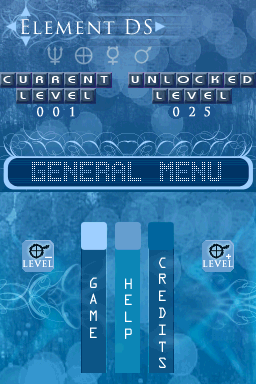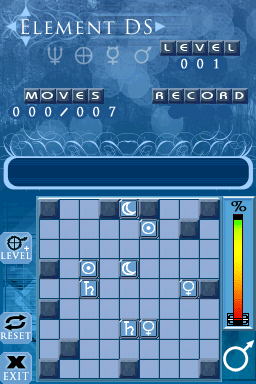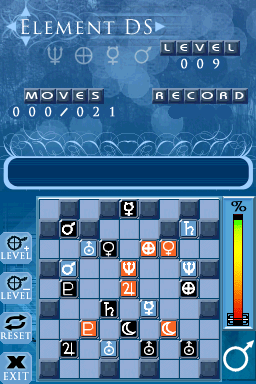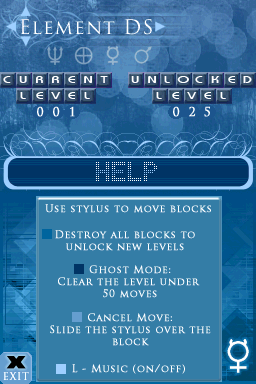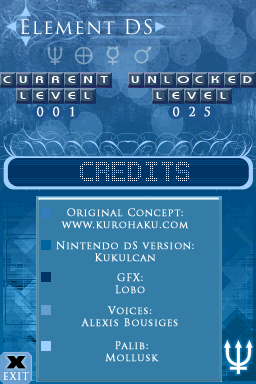 Changelog
Update Thursday 2008/10/23
Correction of level 79 (thanks to The_Pimousse).
Stop the Ghost while playing, press the A key or touch the screen with the stylus (idea from The_Pimousse).
Fixed the bug when releasing the stylus on a tab after selecting a block (thanks to The_Pimousse).
Credits
Code: Kukulcan
Gfx: LOBO
Voices: Alexis Bousiges, Cid2Mizard
Palib: Mollusk
External links