EarthShakerDS
From GameBrew - a wiki dedicated to Video Game Homebrew.

EarthShakerDS is a port of Earth Shaker, a fast but puzzle-based action game to the NDS. It was initially released as an extension level set of the Boulder Dash game on ZX Spectrum.
This project is a continuation of GBAtemp Homebrew Bounty entry.
User guide
The objective of the game is to collect a certain number of gems in the maze without running into opponents or fire.
Explore and dig through the cave to find the gems. Watch out for the rocks as they will crush you if the character passes beneath them.
The homebrew also includes a level editor and a sound test feature.
Controls
D-Pad - Move
A - Dig to the right
B - Dig downards
Y - Dig to the left
X - Dig upwards
Start - Pause
Select - View map
L+R - Commit suicide and restart level
Screenshots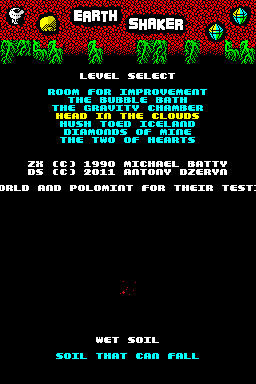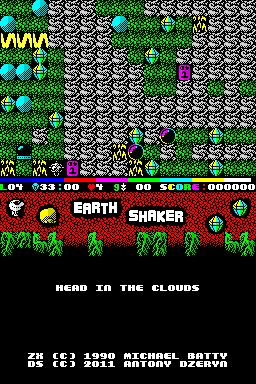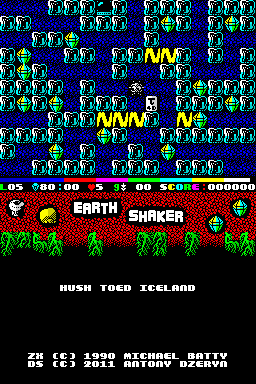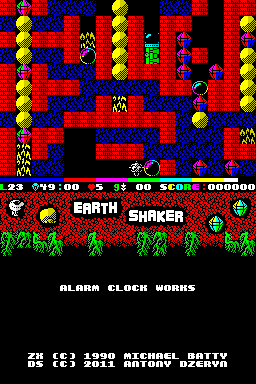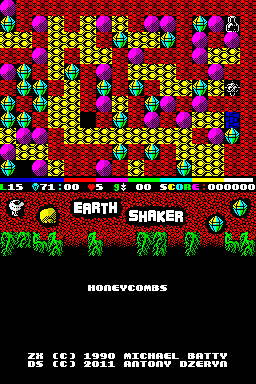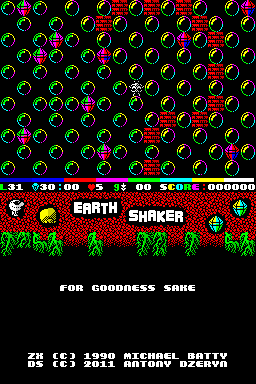 Media
EarthShakerDS (Cid2Mizard)

Compatibility
Tested on Flash card Supercard DSTwo with Firmware EOS 1.11.
Changelog
20120526
L and R both required to kill the current life.
Level editor complete.
20120513
The ability to load and save levels in the editor with user-defined names (so you can have more than one custom level, and share them with other people).
A "Custom Level" option on the title screen listing all user-created levels.
Slightly re-organised level editor.
The ability to load and save boulder/wall/door/soil types in a custom level.
Fixed for the latest devkitARM;.
Updated to the latest WoopsiGfxGameTemplate (fixes SDL version).
Start button can be used to test a level in the editor.
Select button can page through level editor menu panels.
External links