Dual Step Revolution
From GameBrew - a wiki dedicated to Video Game Homebrew.
Dual Step Revolution
General
Author(s)
Shoryu
Type
Music
Version
neoflash compo
Licence
Mixed
Links
Download
Website

Dual Step Revolution is a Dance Dance Revolution clone on the Nintendo DS.
It was participated in the NEO Coding Competition 2005.
User guide
The purpose of this game is to press the button at the right moment when the arrows are at the top. You have to press the right keys exactly when the arrows match the ones at the top. You have to do this until the end of the song. Keep an eye on the red bar at the right. If it's empty, you lose.
There are 2 game modes for each song:
Normal mode.
Survival mode.
In normal mode, when you success at pressing the right key, the meter goes up. So when you missed some arrows, you can still have a full bar if you manage to press the next arrows perfectly.
In Survival mode, when you miss an arrow it will affect definitely your bar. It means you cannot have too much misses since the bar won't go up again.
Controls
Left/Y - Left arrow
Down/B - Down arrow
Up/X - Up arrow
Right/A - Right arrow
Screenshots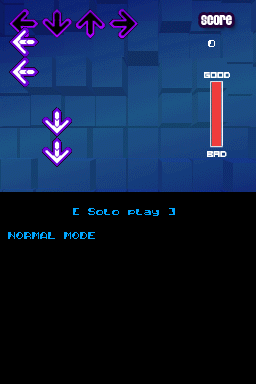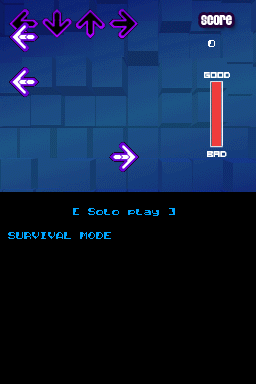 Changelog
Version Neoflash compo
Added Sound support.
Enhanced graphics.
Gauge system added (normal and survival mode).
Version 0.2
First public release.
1 Song playable.
Credits
Mollusk for PAlib.
Dekutree64 for mod player.
All the dsdev.fr community.
External links