DsCube
From GameBrew - a wiki dedicated to Video Game Homebrew.
DsCube
General
Author(s)
Sebastian Proost
Type
Puzzle
Version
Final
Licence
Mixed
Links
Download
Website

DsCube is a three dimensional cube rotates at 360. It is a 3D Rubik's cube simulator for the NDS, which includes 2x2x2, 3x3x3 & 4x4x4 versions.
It was participated in the NEO Summer Coding Compo 2008. It was participated in the 2009 best DS homebrew contest.
Features
3D rubik's cube simulator.
Also has 2x2x2 and 4x4x4 version.
You can disable animations for extra speed.
D-pad, ABXY to rotate cube, use stylus to twist parts.
Start brings up/hides the menu.
DLDI patch to use save/load functions.
Installation
Download and extract file.
DLDI patch it and copy it to the root directory of the card.
User guide
Tap Start to scramble the cube and begin the timer. Bring up the menu to save or load (you can save only one file).
Settings from the Options menu:
Type - Select pocket, normal or revenge (changing this will reset the game).
Timer - Show/hide the timer.
Rotation - Set the speed to spin the cube.
Animation - Toggle the animation (turning it off will allow you to solve it faster, feature for die hard cubers).
Controls
Basic:
Stylus - Twist layers
D-Pad - Spin cube
X/Y/A/B - Spins cube (left-handed)
L/R - Zoom in/out
Start - Bring up the menu
Menu:
A - Select
B - Return
Screenshots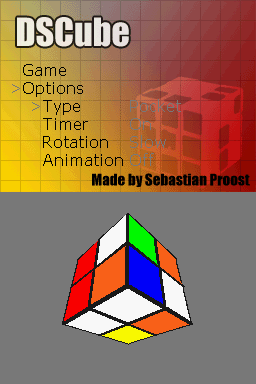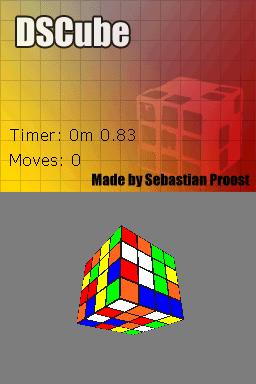 External links