Drummer
From GameBrew
Drummer
General
Author
Andrea Bianchi, Woon Seung Yeo
Last Updated
2010/01/18
Type
Music Apps
Version
0.2
License
GPL
Links
Download
Website
Source
The Drummer is a networked digital musical interface that allows multiple users to design and play a drum kit. Users can at the same time create and customize a drum kit, and then perform together with others simply by tapping and sliding the pen on the screen.
The system is based on client-server architecture over a wireless network; every client runs on a Nintendo DS, one of the most popular wireless handheld game devices with touch-screen functionality, while the server computer handles the clients.
It supports Windows and Mac server.
Installation
Download and extract file.
Copy .nds file to the root directory of the card.
Run either drummerserver.exe (Windows) or drummerserver.app (Mac).
Connection setup guide can be found here.
User guide
There are more than 1 instrument per family.
Families of instruments are represented by colors.
Instruments change by size (different size circles sounds differently)
Hi-Hats are particular (need to stack 2 circles to get hit-hats, obeying to a physical metaphor).
Interface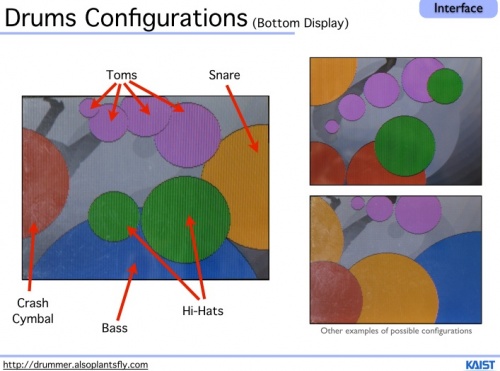 Controls
Control with Stylus, play music by tapping.
External links