Don Simon
From GameBrew - a wiki dedicated to Video Game Homebrew.

Don Simon is a remake of the memory game Simon Says for the NDS. It is one of the PAlib projects.
Features
Save your records: play with friends and try to win them.
Great graphics based on the original Simon game.
Classic Simon sounds.
Uses the touch screen. It's designed to play with your fingers, so you will not need the stylus to play.
Great effects like zoom and rotations.
User guide
Simon's a computer, Simon has a brain, you either do what Simon says or else go down the drain.
The device has 4 colored buttons, each producing a particular tone when it is pressed or activated by the device.
A round in the game consists of the device lighting up one or more buttons in a random order, after which you must reproduce that order by pressing the buttons.
As the game progresses, the number of buttons to be pressed increases.
Screenshots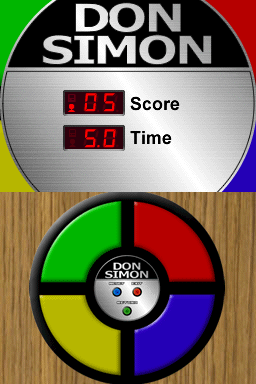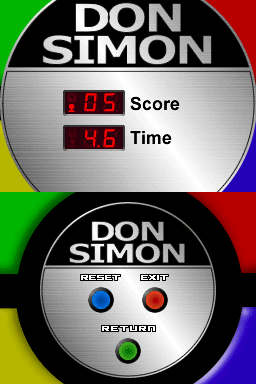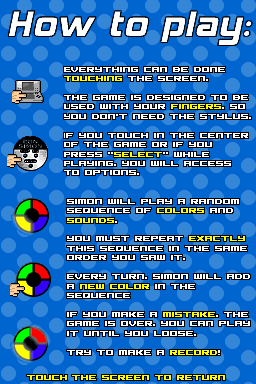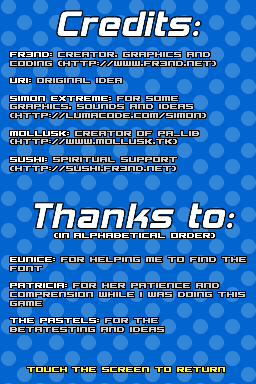 Changelog
Version 1.1 2005/11/14
Solved a bug that maked impossible to play after turn 11. Thanks to Istar for founding it.
Solved a bug that maked impossible to save the score
New keyboard thanks to the last version of PA_lib
Version 1.0 2005/11/13
Credits
Uri for the original idea.
Simon Extreme for some graphics and sounds.
Mollusk for creating the fantastic library PA_lib.
External links