DiscardEmAll
From GameBrew - a wiki dedicated to Video Game Homebrew.
Discard 'Em All
General
Author(s)
t4ils
Type
Card
Version
0.2
Licence
Mixed
Links
Download
Website

DiscardEmAll is a DS homebrew card game.
User guide
The objective is to get rid of all your cards before the computer does. Move the cards from your hand (bottom) to the game (in the middle).
To get rid of a card, place it on one of the 4 cards on the game board. If the card in hand differs by one unit from the card on the board, then you can put it down.
Example: you put a 4 on a 3 or a 3 on a 4.
When neither you nor the computer can play, press the icon (card turned over to the left of the 4 cards on the game board) to draw 4 new cards.
You win the game when you have exhausted your reserve and you have no more cards in your hand.
Note: You can replay or restart at anytime during the game.
Controls
Stylus - Move cards
L - Replay, Restart game
Screensots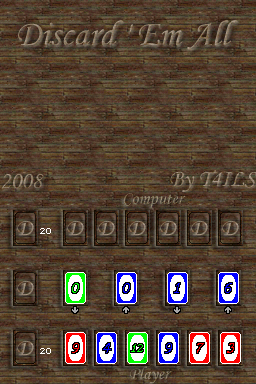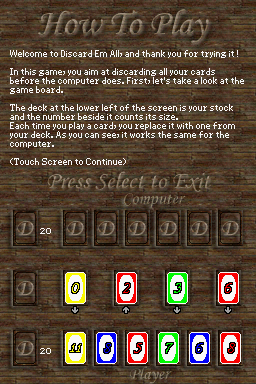 Changelog
Version 0.2 2008/03/09
Added:
Menu.
Options.
Adjustment of the AI ​​level.
Bonus cards yes/no.
Tutorial.
Card swiping when drawing.
Modification:
Version 0.11 2008/03/06
Addition:
Sound.
You can see the computer playing.
Version 0.1 2008/03/05
Addition:
The icon turns blue when the computer cannot play, red when human and computer cannot play.
Each stack of one-way card, which can change if you put the change-direction card on top.
The change-direction card can only be put on a card of the same color.
Over the change direction card, you can only play the same color.
The piles of cards make a "turn": you can go from 12 to 0 and from 0 to 12 (depending on the direction).
the Joker card is play on any card and allow any color.
Modification:
You must play a card of the same color as the Joker over the Joker.
Preview Version 2008/03/04
External links