Demineur - Beda
From GameBrew - a wiki dedicated to Video Game Homebrew.

Demineur (French) is a DS homebrew minsweeper with 2-players mode.
User guide
In single player mode, you can choose between MSN style and Windows style.
2-players option is based on the MSN version, but with less bombs.
Controls
Stylus - Open selected field
Up/Down+Stylus - Place/remove flag
Screenshots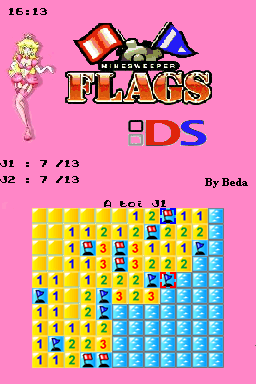 Changelog
0.5
Addition of a second mode in 1 player (window).
Up arrow+ screen key: place a flag.
Down arrow + screen key: Remove the placed flag.
0.41
Add the bomb, but it is buzzing (withdraw for now).
0.4
0.31
Improvement of the game in single player mode.
Beginning of the two players mode.
0.3
Final version to play like a remi.
Corrected sound bugs.
Display of all the numbers.
0.21
Display of the number 1 when a mine is nearby.
0.2
Already some bug fixes.
You can win now.
Added small sounds.
The display of sprites no longer crashes.
There are always the indicator boxes to be done.
0.1
This being version 0.1 there are still a lot of bugs (at the level of the sprites, the display of the number of mines, inability to win for the moment).
Credits
Thanks to Gwoin and Temby for the help.
External links