DS Mines
From GameBrew - a wiki dedicated to Video Game Homebrew.
DS mines
General
Author(s)
aGaTHoS
Type
Puzzle
Version
0.7
Licence
Mixed
Links
Download
Website

DS mines is a Minesweeper clone for the NDS. It features the classic Minesweeper game from the Windows Operating Systems.
It is developed on a linux system, programmed in C, compiled with devkitarm (r23) and uses libnds library.
Features
3 profiles for custom options and save best scores.
4 levels of difficulty for each panel (from 10% to 25% of mines, standard panel has a fixed number of 99 mines).
Four size panels: 16x12, 32x16, 32x32 and windows expert standard 30x16.
Configurable input method.
Graphical information panel in the top screen with the time counter and a minipanel representation.
User guide
It follows the rules of the original minesweeper game.
In the top screen there is a representation of the panel with information of which zone of the panel is displayed at the bottom screen, also the cells that are still covered (and not flagged). You can change the control settings from the options menu:
Drag Multiple - Enabling this option will allow you discover all cells the Stylus passes through.
Fully-Flagged - Enabling this option will allow you to press a discovered cell while holding R/L. If it is adjacent to a number of flagged cells equal to its number, then the rest of the adjacent covered cells will be discovered at once.
Controls
Stylus - Discover cell
R/L+Stylus - Place a flag, Change to question mark, Clean cell
D-Pad or A/B/X/Y (left-handed) - Move panels
Start - Return to main menu
Screenshots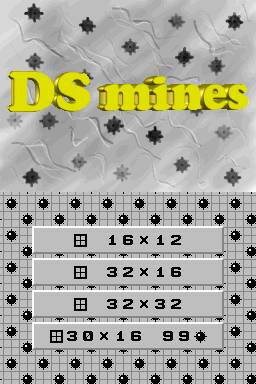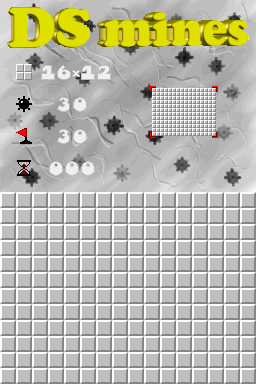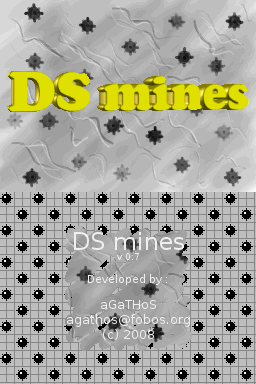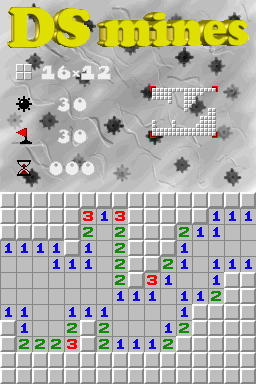 Credits
Graphic stuff it's made thanks to gimp and colors!.
External links