DSMediaCenter
From GameBrew
DSMediaCenter
General
Author
Hillbilly
Last Updated
2009/05/30
Type
Media players
Version
Final
License
Mixed
Links
Download
Website
DSMediaCenter is a full-fledged homebrew launcher/movie player.
It was entered into the 2009 NEO Summer Coding Compo and the 2009 best DS Homebrew Contest.
Installation
Download and extract file.
Place applications in the apps folder, games in the games folder, favorite NDS files in the favs folder and SMF movies into movies folder.
Copy the folders apps, games, favs and movies to the root of your flashcard along with DSMediaCenter.nds and DSMediaCenter.ini.
User guide
To change the paths of apps, games, favs or movies, open up the DSMediaCenter.ini file and change the values there.
To make SMF movies, use the converter provided along with the directions from that folder.
Screenshots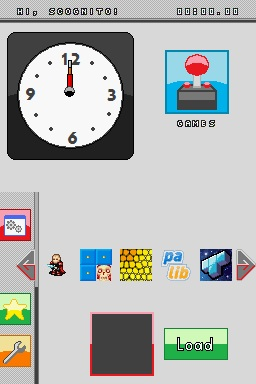 Known issues
Sometimes after playing a movie, DSMediaCenter freezes.
The icon to +1 in settings is for some reason is not displayed properly half of the time.
If you play a movie after a previous play of a movie, the sound from the first movie may resound in the current movie for the first second or so.
External links