DSCrawl
From GameBrew
DSCrawl
General
Author
Sasq
Last Updated
2006/09/27
Type
Role playing
Version
1.0 Beta2
License
Mixed
Links
Download
Website
DSCrawl is a roguelike game for the NDS. It is a port of Linley's Dungeon Crawl, originally released in 1997, similar to Nethack, Angband, etc.
The game attributes its popularity to persistent maps and the much varied systems (religion, magic and skill). It has close to 400 monster types and over 200 spells.
Installation
Copy all files (the NDS, the BMPs and INIT.TXT) to a directory called CRAWL, or to the root directory of your memory card.
Use guide
Most actions are performed by combination keys (D-Pad+ABXY) to access 9*4 shortcuts, which have reasonable defaults but can be configured from INIT.TXT.
The four blue squares under the Text matrix shows what will happen if you press one of the corresponding four buttons.
It will change appearance as you fiddle with the direction pad, so it's easy to see which shortcuts are available and use them.
When you perform specific actions, like targeting, the shortcuts will change and lock to a predefined set of keys, and the directional pad will work as usual.
In menues, the shortcuts also locks and you can move up and down in the menu with the directional pad as expected, and select an choice with the A button.
Controls
L - SHIFT key
R - CTRL key
General:
Select - Inventory (i, or ? if at a prompt)
L/R+Select - Escape
Start - Fullscreen map (X)
L/R+Start - Quit (Q)
D-Pad+A - Move in that direction
D-Pad+BXY - Shortcuts
Menu:
A - Select
B - Cancel
Y - SPACE key (or more - when menu doesnt fit one screen)
Screenshots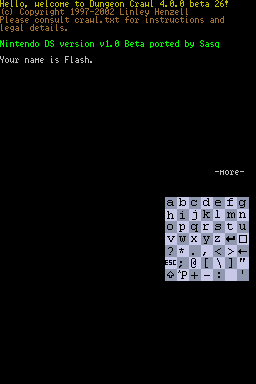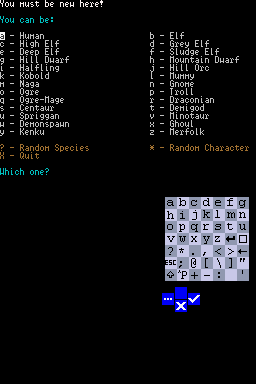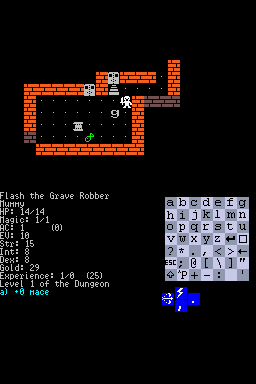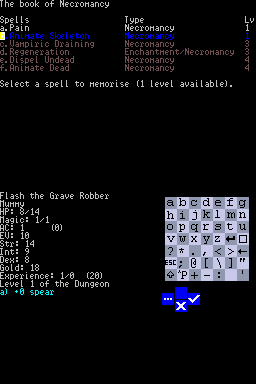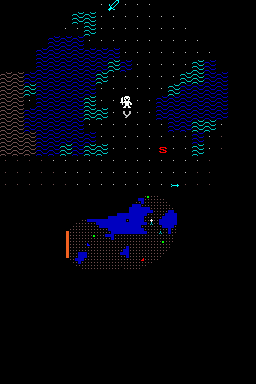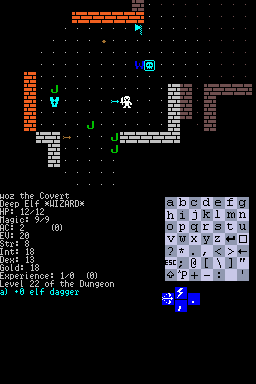 Compatibility
It is suggested to have a libfat compatible memory card. Accordingly the game loads and saves itself from here.
Playing from a GBA cart is just as fine as it will use the SRAM anyway but its capacity is rather small.
External links