DSAmp
From GameBrew
DSAmp
General
Author
PadrinatoR
Last Updated
2006/08/11
Type
Media players
Version
1.0
License
Mixed
Links
Download
Website
With DSAmp, users are allowed to control Winamp from DS. WiFi connection and a DS with a flashcart/M3/SC/etc is needed.
Features
Open, close Winamp.
Previous file, Next file, Pause, Play, Stop.
Repeat All/off.
Shuffling On/Off.
Toggle Fullscreen.
Show ellapsed/remaining time.
Change volume.
Show track title.
Sleep mode (for Nintendo DS, like comercial games).
After 20 secs of inactivity, both screens are turned off.
Installation
Requirements
Must have the port 32123 UDP opened in your router.
PC running Winamp
Install .NET Framework 2.0 (if it's not installed yet).
Run the server app (DSAmpServer.exe). If you have Windows Firewall enabled, it will ask you if you want to lock the application.
You must choose Unlock. It doesn't matter if Winamp isn't opened, because you can open and close it from NDS.
Take note of the IP address on the PC. Open port 32123 UDP on your router.
Flash Card
Download, extract file and copy to apps folder.
Run DSAmp from your apps menu and enter the IP address of the PC (To Find IP: Run, cmd, type ipconfig).
Screenshots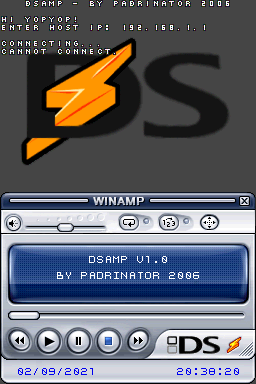 Changelog
v1.0
Fixed a minor BOLDING error.
External links