CrossPics/Sumdoku
From GameBrew - a wiki dedicated to Video Game Homebrew.
CrossPics & Sumdoku
General
Author(s)
JimmyL
Type
Puzzle
Version
6 March 2006
Licence
Mixed
Links
Download
Website
Source

CrossPics & Sumdoku is a NDS homebrew which contains two puzzle games: Picross and Sumdoku.
User guide
Crosspics
The puzzle game is also known as Picross, Nonograms and Griddlers, etc. Once you solve the puzzle, the grid will vanish.
You can also create and solve your own puzzle. Use the editor to draw your puzzle and switch back into play mode.
Number of Crosspics puzzles: 6
Sumdoku
The game is also referred as Killer Sudoku and Sum Sudoku. It has the same rules as Sudoku, except there are regions on the board that shows the sum of the numbers in that area. No number can appear twice in an area, so if it says 4, it has to be a 3 and a 1.
Also, if you try to set the same number twice in the same spot, it'll change it's color. Useful to keep track of what player is positive about and what's just a guess.
Number of Sumdoku puzzles: 2
Controls
Start - Start game, Switch between editor/play mode (Crosspics)
D-Pad - Switch pen
Select - Back to menu
Screenshots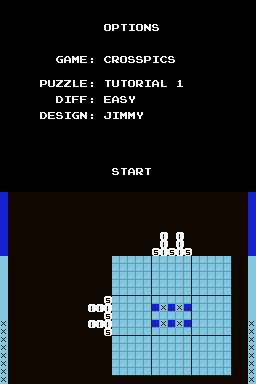 Changelog
Updated 2006/03/06
Added a new game, and with quite a bastardization of a name if there ever was one.
External links