Crack Attack
From GameBrew - a wiki dedicated to Video Game Homebrew.
CrackAttack
General
Author(s)
Giacometti Luca (Samel)
Type
Puzzle
Version
0.5
Licence
Mixed
Links
Download
Website

Crack Attack is a fast paced puzzle game in the same vein as Columns and Tetris.
It was submitted to the NEO Summer Coding Compo 2008. It was voted the 20th Top DS homebrew in the 2009 best DS homebrew contest.
User guide
The aim of the game is to line up 3 or more of the same colored cubes and make them disappear.
Instead of the cubes falling down the screen, as in most other games of this type, they slowly climb upwards from the bottom of the screen, line by line.
If you destroy too many cubes simultaneously, large unmovable bricks fall from the top of the screen to hinder your progress. These can be removed, simply by destroying a column or row of 3 or more cubes, connected to the unmovable brick. Once this is done, the brick turns to cubes, filling up the screen and increasing the difficulty of the game.
It won't take long for you to be frantically searching for lines of 3 that will get you out of a tight spot.
Controls
D-Pad - Move through puzzle pieces
A - Swap selected pieces
B - Speed up blocks flow
Screenshots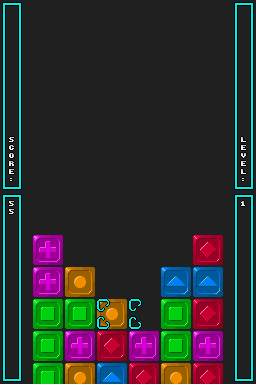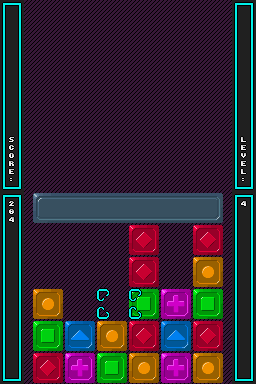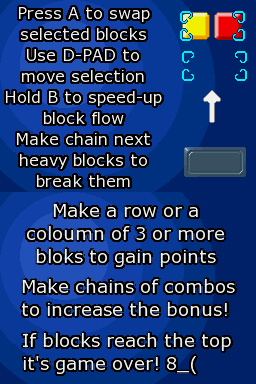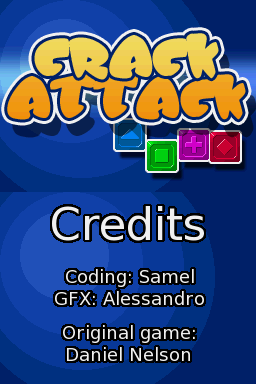 Compatibility
Tested on DeSmuME.
External links