Chewing Boy
From GameBrew
Chewing Boy
General
Author
Morukutsu
Last Updated
2010/08/21
Type
Platform
Version
Demo
License
Mixed
Links
Download
Website
Chewing Boy is a homebrew platformer for the NDS.
It was ranked 9th in the Neo Coding Compo 2010, Game section.
User guide
Find the stars and a maximum of gems in each level. But to accomplish that, you can only jump. Use your transformation abilities to get to the end. Each transformations is accompanied with its own skill:
Basic Ball (Blue) - Jump.
Stick Ball (Pink) - Stick to the walls or ground, except the blue ones.
Verlet Ball (Green) - Use Ninja rope to reach new areas.
Fire Ball (Red) - Use it to kill the enemies.
Controls
D-Pad for right handed and A/B/X/Y are for left handed.
Move stylus then release - Jump
D-Pad - Transformation
L/R - Release Ninja rope (Verlet ball)
Up/Down - Extend Ninja rope (Verlet ball)
Screenshots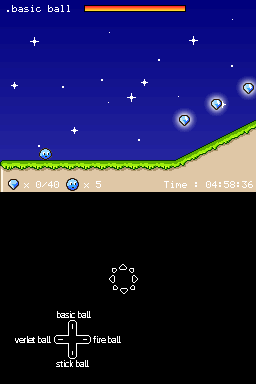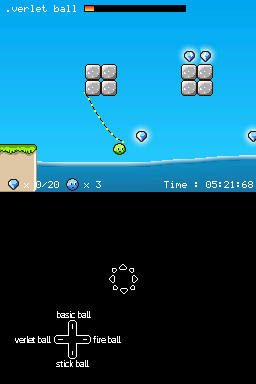 Media
NDS Homebrew : Chewing Boy (MorukutsuSan)

Compatibility
Tested on M3DS Real (firmware 4.8).
External links