ChaosDS - Quirky
From GameBrew - a wiki dedicated to Video Game Homebrew.
ChaosDS
General
Author
Quirky
Last Updated
2007/07/22
Type
Strategy
Version
3.0
License
GPLv3
Links
Download
Website
Source

Chaos: The Battle of Wizards is a tactical combat video game for the Nitendo DS based on the 1985 Spectrum game Chaos - The Battle of Wizards. Original game by Julian Gollop, it was remade for the Gameboy Advance, this version has been rewritten once more from the ground up.
User guide
Up to 8 wizards compete in a turn-based battle to the death, involving elves, dragons, fire, lightning and the odd Gooey Blob. The last wizard standing is the winner.
In this game, you take the role of a wizard, and you have to kill up to 7 other wizards on a grid-based arena. Sounds simple enough.
As a wizard, you will have an array of spells to your disposal, and these spells are the only real means of defeating your enemy.
You can summon monsters to do your bidding, but also call down lightning on your foe, or even start an ever-spreading fire.
Controls
Uses Start, ABXY, R and L on the various screens.
Screenshots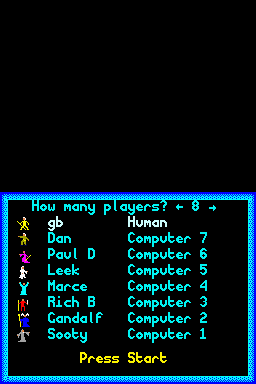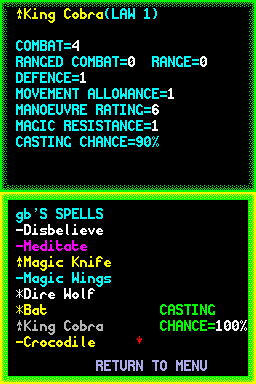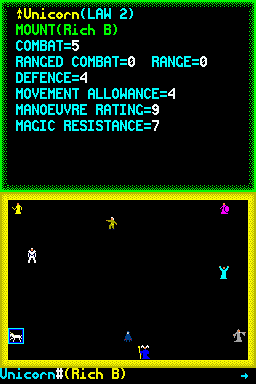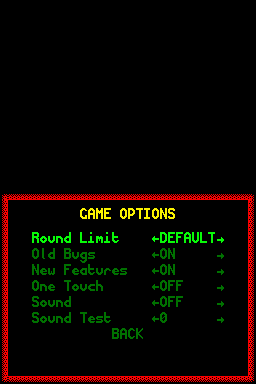 Compatibility
Tested on melonDS.
Changelog
Version 3.0
Implement everything from the GBA version.
Add touch screen controls.
Add a few new-old spells (new in the sense that they were not there before, old in the sense that they are the infamous unimplemented spells from Speccy Chaos).
Improve the touch screen controls.
Add another mode that requires less touches.
Credits
Original Chaos game by Julian Gollop.
WinZ80 disassembler/debugger by Gerton Lunter.
Wav to raw sound conversion by Sox.
Graphics conversion tool by Markus.
External links