Caisses DS
From GameBrew - a wiki dedicated to Video Game Homebrew.
Caisses DS
General
Author(s)
Kukulkan
Type
Puzzle
Version
04 update
Licence
Mixed
Links
Download
Website

Caisses is a Sokoban clone originally made by Hiroyuki Imabayashi with 50 levels. This homebrew is created using Mega Level Editor from REPPA for the competition, the playing area is incorporated into a checkboard containing 192 tiles (19x12). Each box is 16x16 pixel.
It was submitted to the NINTENDOMAX 2006 competition.
Features
Original graphics.
BGM and sound effects.
Level select.
Customizable game presentation and backgrounds.
In-game tutorial.
Available in French and English.
User guide
Gameplay
You are a warehouse keeper, you must rearrange the crates and store them in destination areas. You can push the creates in all four directions and push only one crate at a time. Once all the crates have been placed, the level is over and you move on to the next level.
Levels
The 500 levels (levels 000 to 499):
56 levels come from the Arcade version: Boxy Boy (c) 11/1990 Thinking Rabbit/Namco.
163 levels of the Sega Game Gear version: Soukoban (c) 1990 Thinking Rabbit/Riverhill Soft.
100 levels - Loma (c) Aymeric du Peloux/François Marques/David Skinner/Sven Egevad/Victor Kindermans/Michael Steins/Frantisek Pokorny/Arpad Fekete/Roger Delaporte.
20 levels - Cosmonotes (c) Aymeric du Peloux.
40 levels - Microcosmos (c) Aymeric du Peloux.
40 levels - Minicosmos (c) Aymeric du Peloux.
40 levels - Nabokosmos (c) Aymeric du Peloux.
20 levels - Picokosmos (c) Aymeric du Peloux.
The final level is created by the developer.
This menu allows you to choose 1 background among 6 different backgounds (there is 1 hidden) and 1 sprite set among 6 possibilities.
Cheat code
To unlock the hidden background:
Go to the Options menu, keep the X key pressed and press the top left corner of the small table (the one where you can see the walls, character and boxes).
Be careful the sensitive area is only 7x7 pixels, a voice will say Excellent if you are successful.
Controls
D-Pad or Stylus - Movement
Y - Choose another level
B - Restart level
A - Undo a move (up to 100)
R - Music on/off
L - Pattern on/off
Start - Back to main menu
Screenshots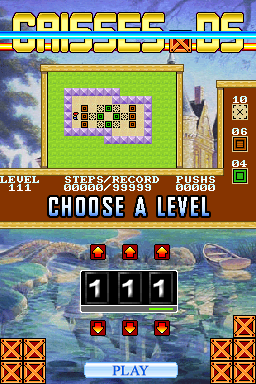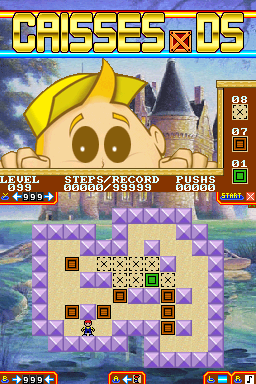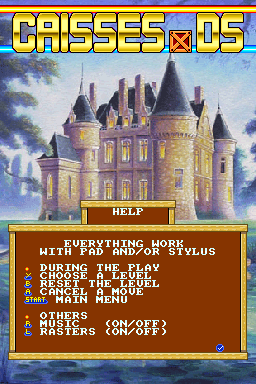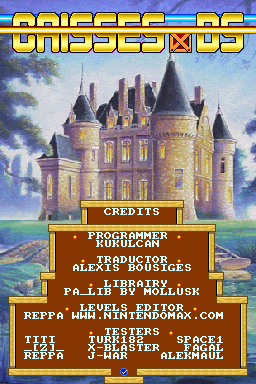 Changelog
Update 2008/10/23
Fixed 2 levels. The 500 levels are now all checked and finishable (no more doubt about this).
Update 2008/09/13
Fixed 40 levels, thanks to Mollusk and the PPC community (logically no more duplicates).
Update 2008/05/16
Fixed levels 104 and 130, thanks to Mollusk and the PPC community.
Update 2007/03/03
Creation of an icon for the game, thanks www.ds-xtreme.com for the linker.
Press Start at startup to skip the intro screens.
Fixed spitting in applause (Thanks J-War from www.furykane.com).
Credits
Aymeric du Peloux, Mollusk, Alekmaul and Reppa.
External links