Rverse 3DS
From GameBrew
rverse
General
Author
rverseTeam
Last Updated
2021/11/02
Type
Other Apps
Version
4.0.0
License
Mixed
Links
Download
Website
Source
Rverse, formerly known as foxverse and Reverse, is a Miiverse clone which aims to restore Miiverse for 3DS.
Installation
You need these to be able to install rverse on your 3DS:
A 3DS with CFW (Custom Firmware) that allows patching games, like Luma3DS.
A Nintendo Network ID (not a Nintendo Account).
An Internet Connection.
A SD Card with at least 20 MB of free space.
Installing manually:
Using your PC or Phone, extract the contents on the zip to the root of your SD Card.

The zip contains 2 folders, 3ds and luma. Extract the folders in the same place you see them.
If you're asked if you want to overwrite the contents of the folders, please allow it to continue.
It won't overwrite any file unless you're updating your rverse install.

Restart your 3DS to access your Luma3DS configuration (hold Select on boot).
Make sure you have enabled the Enable game patching setting. Press Start to save.
Notes: Make sure you're installing on the correct place on your system. If Luma3DS is running from NAND, install the patch to your NAND using any file explorer like GodMode9. This is a limitation of Luma.
Installing via Universal-Updater:
Open Universal-Updater 3DS using your preferred method.
Once inside Universal-Updater, tap the search icon on the sidebar.
In the search bar, type rverse.
Hit the A button on the rverse entry, then A again to activate the rverse script. Wait until it says Done.
As for final preparations before accessing rverse, you need to ensure the Enable game patching setting is enabled on Luma3DS's settings.
Special notes:
Please be careful of using Luma3DS builds that don't come from a official source and ensure that it comes from a source that the community trusts.
Using alternative Luma3DS builds, may cause issues with rverse such as system crashes, especially on Old 3DS due to taking extra RAM on the colsole.
Also make sure your console's language is set to English (or Japanese if you're using a JPN console), as other languages may not work. This is especially true if your console's language is set to German, as it's known that they are unable to access rverse.
Screenshots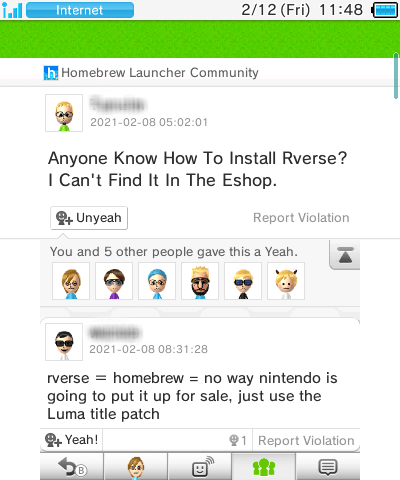 External links