PayloadSpinner 3DS
From GameBrew
PayloadSpinner
General
Author
SaturnSH2x2
Last Updated
2017/10/29
Type
System Tools
Version
1.2
License
WTFPL
Links
Download
Website
Source
PayloadSpinner3DS is a homebrew application that allows quick and easy hotswaping of boot.firm with one of any other FIRM files on your SD Card. For example, if you want to switch from Luma to A9NC, or GodMode9, you can swap them through this homebrew, rather than manually renaming the files through GodMode9 or CTRXplorer.
Installation
Make sure you have all relevant CFW files ready on your SD Card. Put your payloads in 3ds/data/PayloadSpinner3DS/.
From there, install PayloadSpinner3DS, start it up, and select which payload to set as your boot.firm.
The application will give you the option to reboot after your boot.firm is replaced.
Screenshots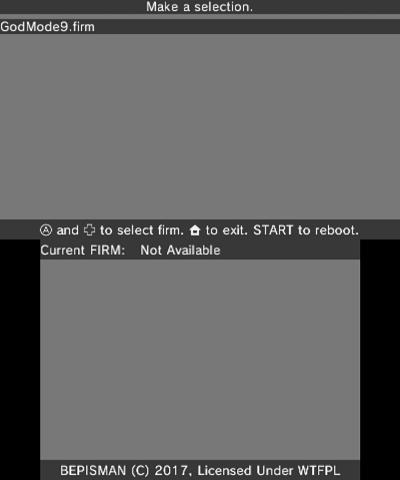 Changelog
v1.2
This release fixes the app's tendency to crash when no payloads are detected.
Now manually create all necessary directories if it finds they aren't all there.
v1.1
Fixed a bug with memory allocation since v1.0.
Credits
Special Thanks:
BernardoGiordano for pp2d.
All ctrulib contributors.
External links