PCHex-plusplus 3DS
From GameBrew
| | |
| --- | --- |
| | This application has been obsoleted by one or more applications that serve the same purpose, but are more stable or maintained. |
PCHex++ is a pokemon graphical savefile editor. It is based on Stracker's original PCHex. A lot of code is written from scratch although a lot of ideas are taken from there.
Note: Use PKSM instead.
Features
Clone a pokemon.
Import and inject a .pk6 file into your savefile and export a .pk6 to your SD card.
Edit your pokemon with a touch based gui, more and more parameters added with every release.
User guide
To use the import functionality you should place every needed .pk6 file in the /pk/PCHex++/import folder. It is automatically generated after first startup.
The export functionality places your file in /pk/PCHex++/export.
An automatic backup of your save is placed in /pk/PCHex++/backup.
Screenshots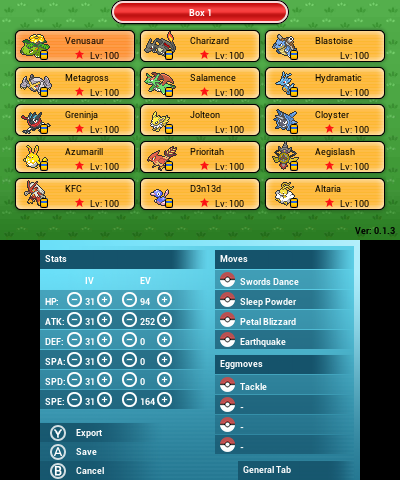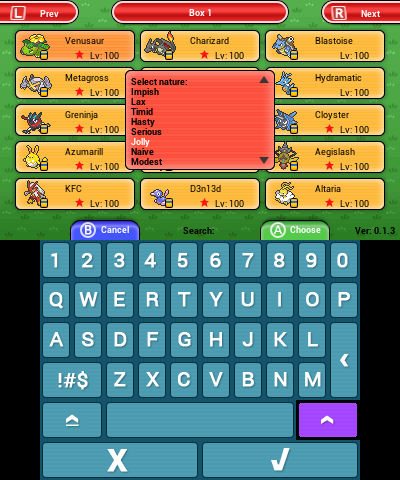 Credits
Stracker for the original PCHex. It is a good piece of software and inspiration for this tool.
dsoldier for the awesome design ideas, textures and graphical help provided.
VaiCorunthians, @Xenosaiga and many others for the intensive testing.
Gocario for his PHBank which is a goldmine of inspiration and for his advices and help.
xerpi for sf2d and sftd libraries.
Ryuzaki_MrL for the huge work on the .cia version.
Kaphotics for PKHex (with its source code) and for his help.
External links