Flashcart OS
From GameBrew
Flashcart OS
General
Author
TeenDev
Last Updated
2008/03/20
Type
Homebrew Launchers
Version
N2.1
License
Mixed
Links
Download
Website
Flashcart OS (N) is the Novice version of Flashcart OS. It was formerly called Flashcart OS: Slot-1 Edition, which is a homebrew menu with an integrated .nds loader. The menu is M3 simply/R4DS based and has to be patched with a DLDI file of your card. You can skin this file with a M3 ds simply/R4DS skin, that you have renamed and converted to the .gif format.
Flashcart OS: N 2.1 was submitted to the NEO Spring Coding Compo 2008 and ranked 10th.
Features
Supports R4/M3 Simply skins that are converted to .gif.
Has a file browser for booting NDS files.
Boots to MoonShell (moonshell.nds).
Boots to GBA mode.
Installation
Extract file and DIDL patch it.
If you use a Datel Games 'n' Music, use the pre-patched bootme.nds file (for Moonshell user, rename MoonShell to _DS_MSHL.nds and put it in the fshl folder in order to boot).
Place your skin in the fshl folder. Place on the root of your card.
Screenshots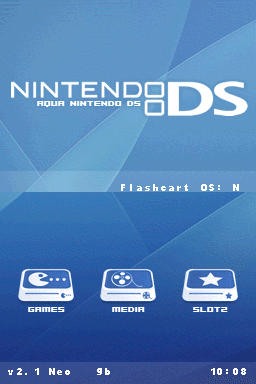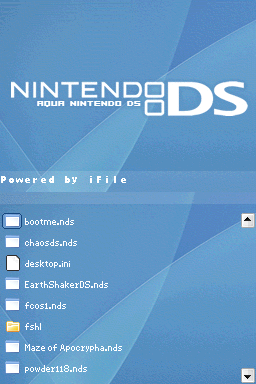 Changelog
Flashcart OS: N 2.1
Fixed names larger than 6 characters (thanks cornaljoe).
Fixed bug that stopped hardware if fat3.dldi wasn't found.
Flashcart OS: Slot-1 Edition 2.0
Now uses iFile as the file browser (Thanks madcat1990).
Fixed GBA booting bug.
Changed the interface to look more like the R4 menu.
Change moonshell booting to boot /fshl/mediaplay.bin (Read readme.txt for more info).
Cleaned up the code and made it more stable.
Updated to r21 (R4 native skins will be avalible with having to convert them to .gif soon).
Done for the Slot-1 version. Onto you GBAMP users.
Credits
Chishm (For libfat and the Games n' Music DLDI Driver).
All people who have contributed to NDS Homebrew Development.
darkchild/madcat1990 for the permission to use iFile.
External links