DSMplay
From GameBrew
DSMplay
General
Author
Infantile Paralysiser
Last Updated
2007/09/15
Type
Media players
Version
0.8
License
Mixed
Links
Download
Website
DSMplay is a video player for Nintendo DS. An alternative to the use of MoonShell with different video format.
Recall that uses Moonshell DPG format and this player uses DSM.
Installation
Download and extract file.
Own DLDI patcher is included. Run MakeNDSROM.exe to generate the .nds files, click OK to exit the program.
Copy the .nds file with your card's name to the apps folder of your card.
Copy the folder dsmplay to the root of your card.
User guide
You will need to convert files with .dsm Tools.
There is selection screen on the left and clips of scenes are on the right, both controlled from the touch screen.
Controls
Stylus - Select screen menus and icons, Navigate menus
Up/Down - Select video
A/B - Play/pause video
X/Y - Up/down volume
Left/Right - Moves scenes
L - Play previous video
R - Play next video
Select - Scene menu
Start - Soft reset
Screenshots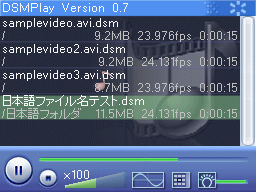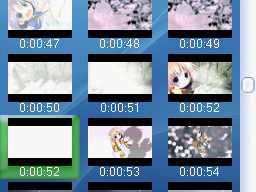 Known issues
Large file size when converting files to DSM format.
Changelog
Version 0.8
Improved DSM regeneration.
Simple way to activate MP3 mode.
Translated menu options into Spanish. (Abyss)
External links