Woctochat
From GameBrew
Woctochat
General
Author
Circus
Last Updated
2008/03/29
Type
Other Apps
Version
Client 0.3/Server 0.3
License
Mixed
Links
Download
Website
Source
Woctochat is a homebrew chatting application for the DS. It uses the Nifi instead of the WFC, allowing you to create a server on your PC and then connect with your DS and communicate with friends who are also connected to the same server.
Installation
Client setup:
Download and extract file.
DLDI patch the .nds/.sc.nds/.ds.gba file, copy it along with the woctochat.cfg to your flashcard.
Modify woctochat.cfg according to the server to connect.
Server setup:
Modify the woctochat.cfg which is with the Woctochat.exe according to your need.
User guide
Using Server:
Start Woctochat.exe and leave it running.
Using Client:
Run the ROM and then to connect to the server. Enter the IP with the keyboard and press Send (the port number to be 80).
Press Start and the client will connect through for what you put in the woctochat.cfg.
Once connected, to send a message, write it with the keyboard and click Send to send it.
Screenshots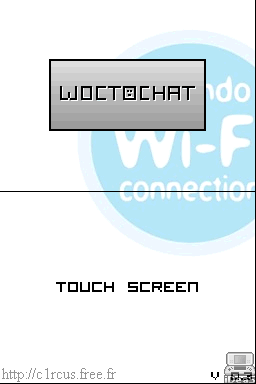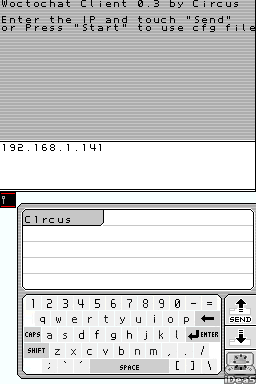 Changelog
Version 0.3 Beta 2008/03/29
New features:
Name of the client displayed next to his message.
Bug in the display of messages fixed.
Several clients on the same server.
Deleted:
Version 0.2 Alpha 2007/11/25
New features:
Added choice of font colors.
Server responds.
Version 0.1 Alpha 2007/11/24
External links