Usagi 3DS Theme Editor
From GameBrew
Usagi 3DS Theme Editor is a WPF Based, Theme Editor for Nintendo 3DS (+.Net Library).
Features
Usagi Theme Editor:

Live (Animated) Preview - Supporting all Render Modes and Frame Types for both Screens.
Colored and Textured Application/Folder Icons on the Preview.
Animated Cursor on the Preview.
Image Palette - Pick colors from up to 20 colors from the top and bottom images most used colors.
BGM Preview (preview only, to generate the BGM.BCSTM, you may use the YATA+ Converter or similar alongside this application).
Image Dithering.
Available in English, Brazilian Portuguese, Spanish (by dsoldier), Italian (by RayFirefist), French (by Kerouz).

ThemeEditor Common:

LZ11 De/Compression.
Texture Encoding/Decoding.
Image Data Operations: Dithering, Blitting, Rotating, Palette Generation, Grayscale.
Theme Reading/Writing.
User guide
Usagi Theme Editor
Requires:
.Net Framework 4.5.
Windows Operating System (WPF doesn't work under Mono. However there are some markup languages which do, you can try to fork and port it).
| | |
| --- | --- |
| Image Palette | Select colors from the (up to) 20 most used colors on the Top/Bottom Screen Background Images. |
| Animated Live Preview | See Changes in Realtime, Animation is Toggleable. |
| BGM Preview | Preview Only, No BCSTM Conversion Support. |
| Exports Preview Image | Upon Exporting, preview.png will be generated. |
| Image Dithering | Reduced Banding, Bayer8x8 Ordered, Example (2x Nearest Neighbor). |
| Top Screen Render Modes | None, Solid Color, Solid Color & Texture, Texture. |
| Bottom Screen Render Modes | None, Solid Color, Texture. |
| Top Screen Frame Types | Fixed, Slow/Fast Scroll. |
| Bottom Screen Render Modes | Fixed, Slow/Fast Scroll, Flip/Bounce Tiled. |
| Bottom Screen UI Elements | Folder and Icon Borders, Solid Color and Textured. |
| Experimental CWAV Manager | Add Sound Effects to your themes, optional support for ctr_WaveConverter (Required for Wav Conversion). |
| SMDH Generation | Loads/Creates info.smdh file for CHMM2. |
| Theme Sender | Sends Themes over Network to CHMM2. |
| Localization | English, Portuguese (Brazil), Spanish (by dsoldier), Italian (by RayFirefist), French (by Kerouz). |
ThemeEditor Common
Requires: .NET Framework 4.5.
ThemeEditor Common is an object Oriented, Standalone Library for Handling the Theme Files.
Built from the Ground Up in a Object Oriented manner, you may use this for your own projects that require Loading/Editing the Theme files, without rewriting the wheel.
Screenshots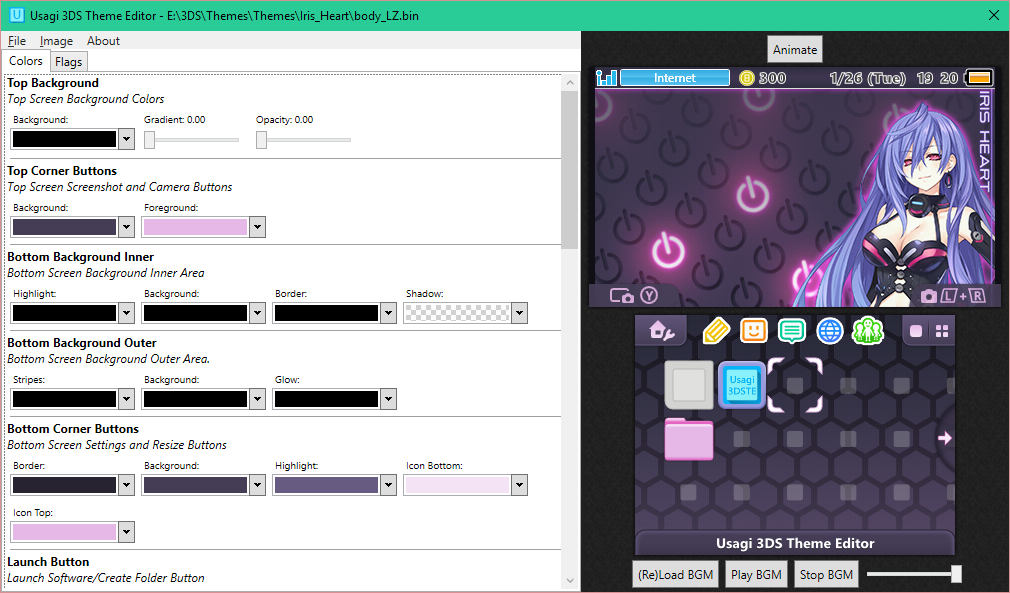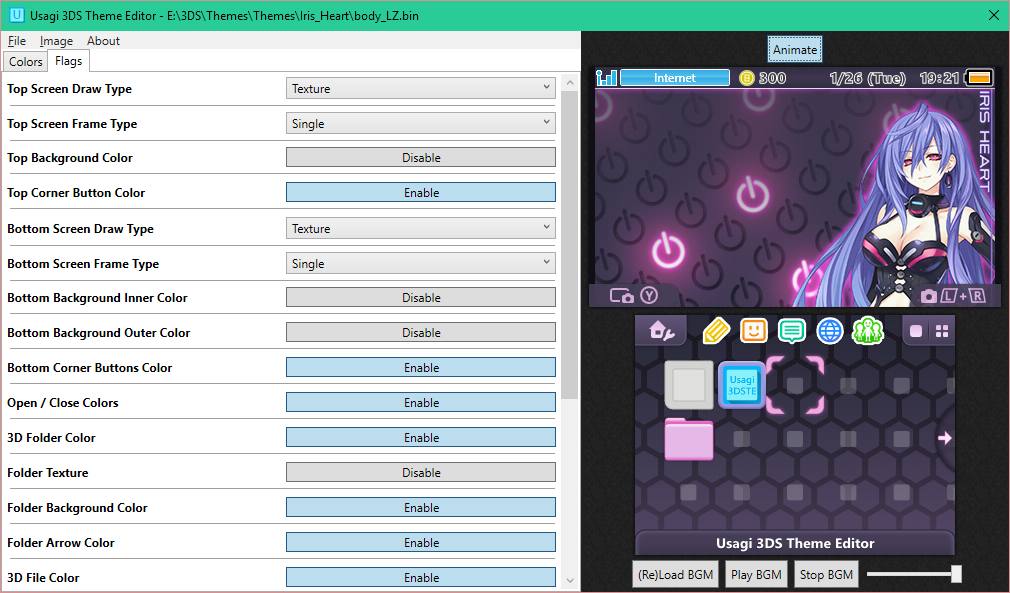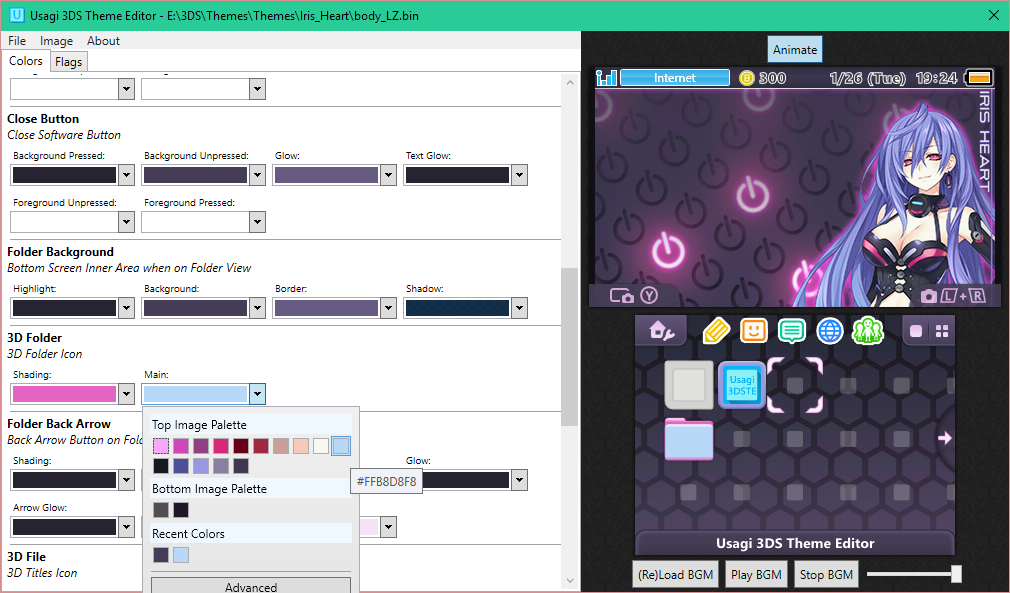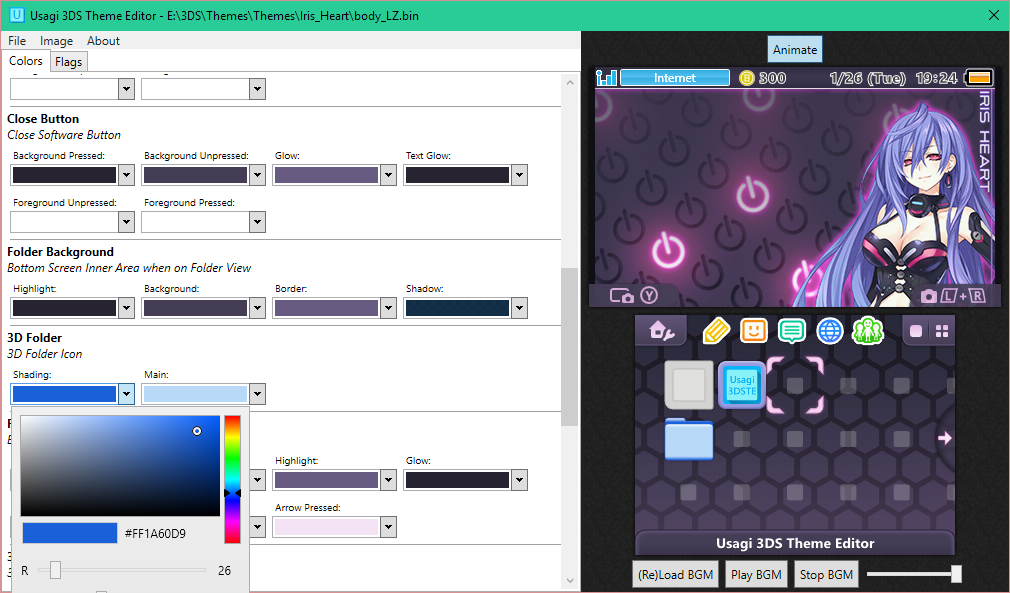 Changelog
v1.0.12.1
v1.0.12.0
Perform Edge-Bleeding upon non POT image Import.
Fade-Out not present images drop-zone (highlight set images).
Import/Export Colors and Flags to a Text File.
Allow Changing Default (New) Theme (place a file named default_body_lz.bin on the application root).
v1.0.11.0
Fixed images not being auto-resized when dropped instead of loaded from menu
Added Support for dropping .bin files in the Left Panel Area (Tabs)
Added Quick Image Toolbar in the Right Panel Area (Preview): Allows dropping of image files on their respective buttons, as well as clicking to fire the File Browser Dialog. Screen Panels are no longer drop targets.
v1.0.10.1
Fixes Folder mode Preview Item Position.
v1.0.10.0
Added Rotating 3D Folder on Top Screen (Visible under "Folder" Mode).
Fixed #8 | Improved the pattern (Solid Color Texture) preview, should also yield correct previews and outputs now.
Added Shadow Positions for Folder Back Arrow and Open Software Button.
Added a few previously missing Colors.
And some core changes.
Credits
External links