Ultimate NES VC Injector 3DS
From GameBrew
Ultimate NES VC Injector
General
Author
Asdolo
Last Updated
2016/11/08
Type
Forwarders and Virtual Console Injectors
Version
1.2
License
Mixed
Links
1.1 / 1.2 Download
Website
| | |
| --- | --- |
| | This application has been obsoleted by one or more applications that serve the same purpose, but are more stable or maintained. |
Ultimate NES VC Injector for 3DS is a Windows program that takes a NES backup file and converts it to an installable CIA for your 3DS with CFW.
Note: This utility has been integrated into New Super Ultimate Injector.
Features
VC NES injection into a CIA.
Easy made custom 3D banner.
Easy made custom text/footer banner.
Easy made screen size/aspect ratio configuration.
Easy made whole process.
User guide
Requirems Microsoft .NET framework 4.5 to use.
To use, follow the steps in program:
Rom file selection - Select your .nes rom file.
VC game icon and name - Complete the fields for the info boxes.
VC NES 3D banners - Edit the bottom banner, or you can import a custom one.
VC parameters - You can change the button layout and adjust the game screen size.
Buttons layout options:
Y - Select, X - B, L+R+Y - Swap player1-player2
Y - Nothing, X - VC menu (no 2nd player control)
Game screen size options:
256x240 px (pixel perfect)
284x240 px (VC original)
360x240 px (like GBA games)
400x240 pc (real fullscreen)
Note: If Disable dark filter If this is checked, there will not be any dark filter. You can preview the changes of this.
Screenshots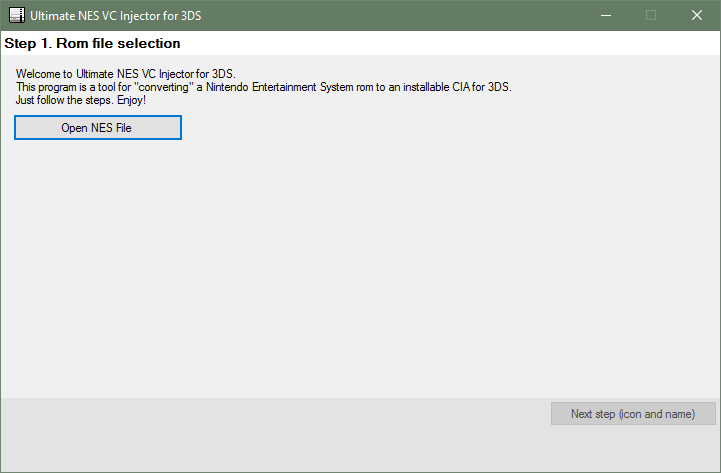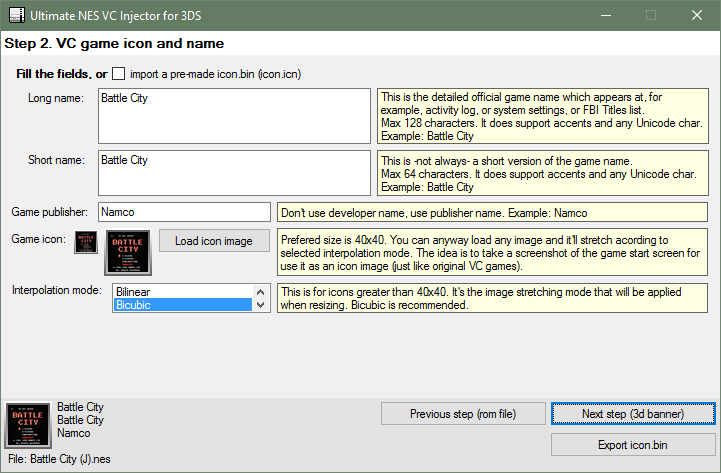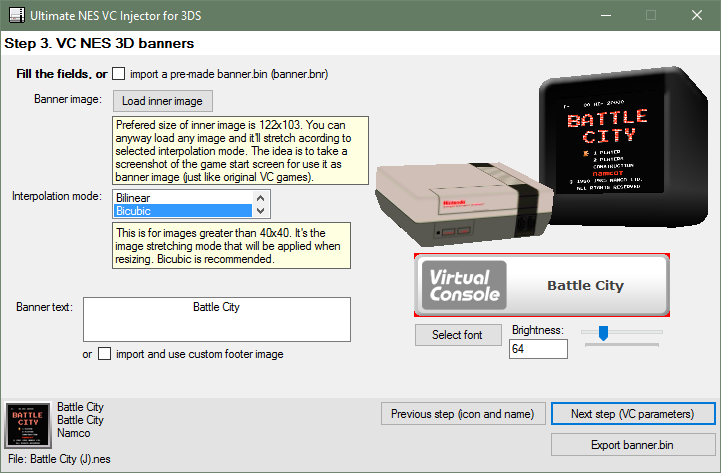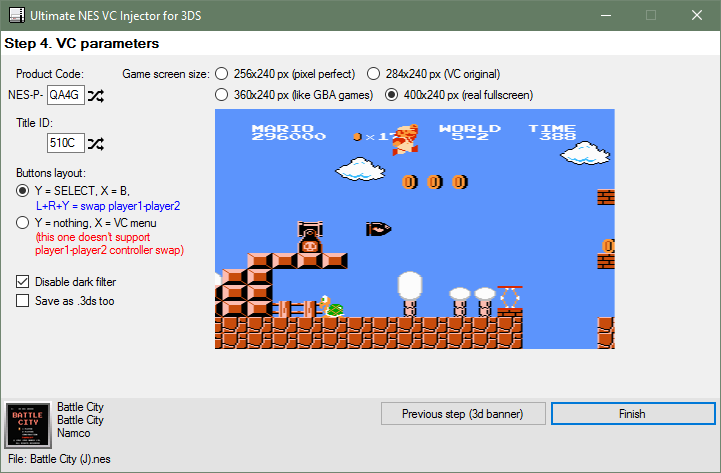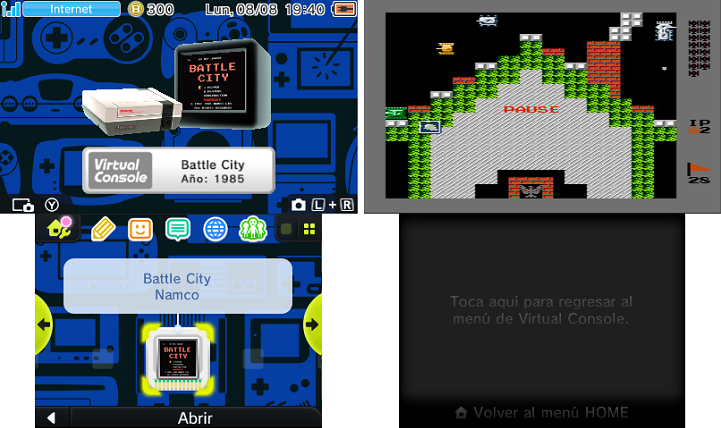 Changelog
v1.2
Fixed: Now the injections should be region-free (not tested).
Fixed: Now the parental control won't be a trouble.
Added: Now you can choose 3 different types of 3D Banner, NES, Famicom and Famicom Disk System (thanks to @cots).
v1.1
Added: more roms compatibility (still not even 99%).
Added: Game recognition. Most of official roms (non hacks/translated/HVC roms) now will be recognized and it'll auto-complete game name and publisher.
More Stability™ (?).
v1.0
External links
GBAtemp - https://gbatemp.net/threads/release-ultimate-nes-vc-injector-for-3ds.437415