New Super Ultimate Injector 3DS
From GameBrew
New Super Ultimate Injector
General
Author
Asdolo (Asdolo94)
Last Updated
2020/08/20
Type
Forwarders and Virtual Console Injectors
Version
beta 28
License
Mixed
Links
[beta 27+debug build beta 28 Download]
Website
New Super Ultimate Injector 3DS (also known as NSUI) is an application that allows you to inject Nes, Snes, GameBoy, GameBoy Colour, GameBoy Advance, Mega Drive, Game Gear and TurbiGrafx 16 roms in to the 3DS, allowing roms of games from these popular classic consoles to be loaded from the 3DS home screen.
This is something which has been possible for a number of years now, however advancements have been made with GBA game injection. Its now possible to inject games which use 128k saves and the RTC (real time clock) such as Pokemon without having to patch the rom to get the game to save.
User guide
The tutorial is based on this guide ​of making VC inject of Pokemon Emerald for the Game Boy Advance. Broadly speaking, the steps will not differ too much for other supported VC injectable consoles.
To begin, open New Super Ultimate Injector for 3DS.exe, and create a new project:
Once the project loads, click Project, then Load ROM to import your legally dumped GBA rom by navigating to it in the window that appears.
Most of the information about your rom will be automatically prefilled. You may customise it as you wish.

The options are reasonably self-explanatory, however if you are unsure, hover your mouse over a box or button for a short explanation of what it does.
Most of the customisation is up to you. Pick any name, change the game icon, choose a title ID, modify the CIA banner, etc.
If you are lazy, most of these options can be left unchanged, but you should click "Download title screen from database" under icon settings and banner settings in order to get a half decent icon and banner image that you don't have to go hunting for.

Importantly, at this time, there is no way to change button mapping for a VC inject.
Under "Edit content options" at the bottom, you can apply a hard reset and or a sleep patch, if you want to do that.
Once you have finished customising your rom, export it.
It can then be installed to your console via FBI, which by this point you should already have.
Note
VC injects count as Home Menu titles. You may have 300 Home Menu titles at one time, system apps do count, and folders don't change the limit.
If you wish to run Nintendo DS (i.e. old DS) games, it is advised to use TWiLightMenu++ instead.
See this post if the text banner image does not show up.
Discussion thread regarding the result_error_during_process error.
Screenshots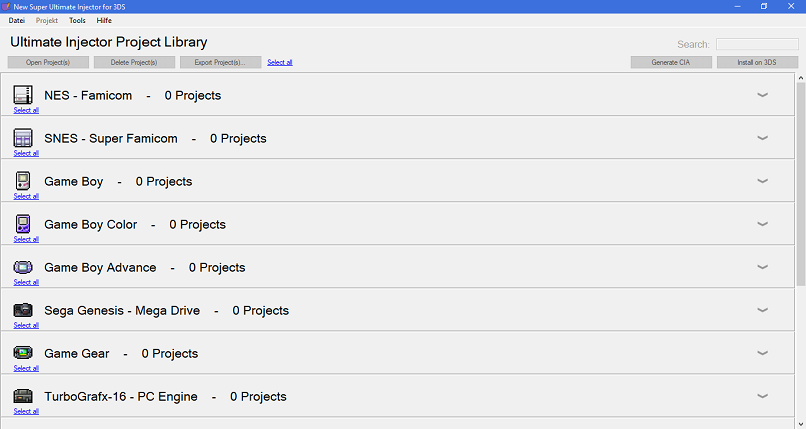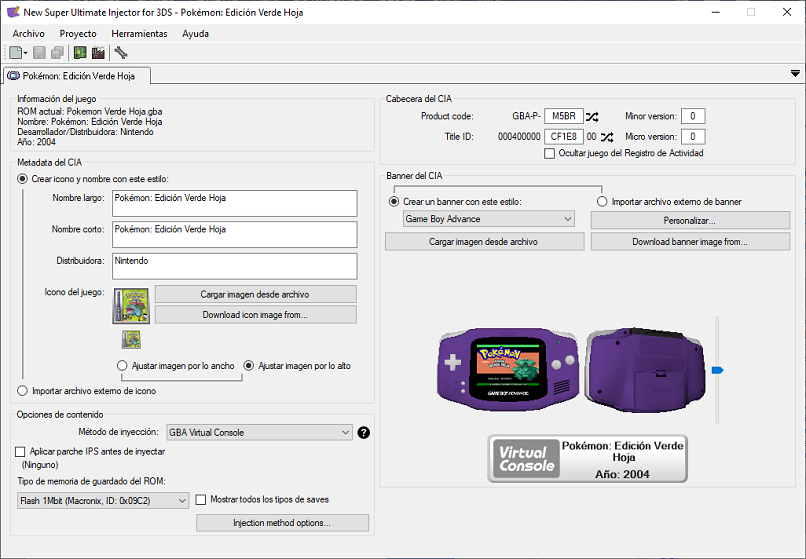 Media
How to convert any rom to CIA file and save (GB,GBA,GBC,NES,SNES,FAMICON) 3DS NSUI 2020 (3rst)

How to play any Gameboy game on your Old 3DS/2DS & New 2DS using New Super Ultimate Injector (NSUI) (ProVictini)

Changelog
Beta 27 2018/02/26
Added default overscan crop setting configuration.
Extract & rebuild banner in the CIA editor window.
Let user export CIA without providing icon/banner images.
Add a warning if the Bios is missing in GBA and FDS injectors.
Changed the text of the Ok/Cancel buttons in the Games database searcher.
Close tooltips when the mouse cursor isn't on the item anymore.
Updated RetroArch Forwarders base CIAs.
Fixed missing .cia extension when exporting a CIA file if the Project name has a dot character.
Force GBC roms to load into "GB mode" in the GB injector.
Added a manual database search function for missing metadata/images.
Added an alternative Virtual Console Injection Method to both GB and GBC injectors.
Renamed injection methods in NES, FDS, GB and GBC injectors.
Forced Famicom controllers image when swapping them with L+R+Y in FDS Virtual Console and NES Virtual Console if the selected banner is Famicom or Famicom Disk System.
Added Download Play support to FDS Virtual Console.
Updated Old NES VC to 0.127b.
Added the missing stretch options for VirtuaNES.
Fixed a compilation issue.
Added an (unfinished) option to crop overscan in NES VC and forwarders plus some bugfixes.
Added incompatible chips to SNES VC blacklist.
Added gpSP and mGBA forwarders.
Fixed console freezing when going into sleep in Home Menu with VirtuaNES.
Fully working VirtuaNES forwaders (for NES and FDS platforms) and some bugfixes.
Changed GBA VC maximum screen ghosting from 255 to 254.
Fixed cheats files and the pixel perfect resolution in snes9x for 3ds forwarders.
Fix .csproj to check for MdiTabControl.dll in current dir.
Fixed some games going too fast if Download Play were activated in NES VC.
Added a CIA extract and rebuild tool.
FDS injection and some bugfixes.
Fixed Snes9x fullscreen resolution.
Made the Core Options Editor window resizable.
Added GB cart color preview.
Fixed a bug that caused the config.ini file and the Library not to be saved where they should be saved in some systems.
Fixed a bug that caused GBA VC CIAs not to be generated when using sleep/reset patches sometimes.
Fixed GB/GBC border being black by default.
Fixed default GB VC Palettes save into config.ini.
Save last paths to the config.ini.
Added ukrainian translation.
Increased Title ID characters from 4 to 5.
Set project name as default filename for a CIA.
Added more chips to SNES VC blacklist.
External links