Tunneler DS
From GameBrew
Tunneler DS
General
Author
MagNet
Last Updated
2007/10/22
Type
Aecade Games
Version
0.2
License
Mixed
Links
Download
Website
TunnelerDS is an arcade game based on the hit '91 game Tunneler 2.0 by Geoffrey Silverton.
User guide
Tunnler is a 2-player game where the goal is to locate the other tank and then destroy it using your handy cannon.
Look out for your remaining energy as it decreases with every second spent on the battlefield.
Blue bar displays energy and green one health.
Both can be replenished at the bases, if you're in the foe's base only the energy is gained.
Also you dig much faster when shooting at the expense of a bigger energy loss.
And note the noise that you might notice sometime during the game is intented. It is going to beome more and more frequent as your energy goes down.
Controls
D-Pad - Player 1 movement
L - Player 1 shoot
ABXY - Player 2 movement
R - Player 2 shoot
Select - Simple mode toggle
Start - Restart game
Screenshots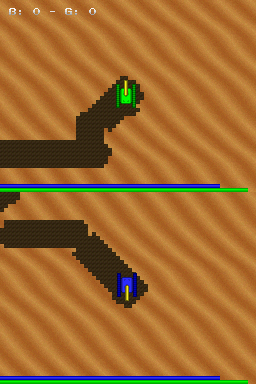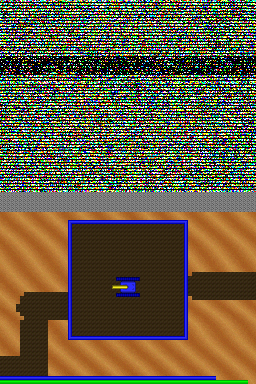 Compatibility
Tested by the author with CycloDS (need to be run through DSOrganize or some other launcher) and R4.
Changelog
0.2
[FIX] Made it work on Cyclo without launchers (removed all PA_DeleteSprite).
[FIX] Fixed the simple mode.
[FIX] Fixed a little bug with the score display.
[ADD] Added collisions between tanks.
[ADD] Added some lovely tank explosions.
0.1
Credits
By MagNet (magnetpwnz.com, 2007).
Special thanks go to BIOROID and ANT512 for helping with the code.
DevkitPro, PALib.
External links