Treasures of Gaia
From GameBrew
Treasures of Gaia
General
Author
Sébastien Thon
Last Updated
2007/08/20
Type
Other Apps
Version
0.2
License
Mixed
Links
Download
Website
Treasures of Gaia is a homebrew that allows you to browse an extremely detailed map of the entire world on the DS thanks to Google Maps (a Wifi connection is mandatory). The whole world is now in the DS! The purpose of Treasures of Gaia is to let you appreciate the beauty of our world.
It was submitted for the NEO Summer Coding Compo 2007 (winner).
Features
WIFI connection.
Sample 4 types of maps.
Language English, French, translated to 80%.
Contains information on 851 placed on the World Heritage List.
Able to display the world map from the roof of your house.
Installation
Download and extract the file.
Patch the ROM with DLDI.
Put the file tog_cities.dat at the root of your linker.
Note: Wifi is required.
User guide
You can freely travel where you want, but special places locations are provided: the list of the 851 places inscribed by the UNESCO on the World Heritage List for their outstanding universal value to humanity. These places are indicated on the map.
To obtain information about a place, touch its location with the stylus. The information are displayed on the upper screen, where you can switch between a picture of the place, a description, or its location on a global map.
Locations can be displayed in a list form. When you select a place from the list, the same information will be shown on the upper screen, you can directly go to this location by touching the Go! button.
You can also zoom in and out while browsing the map. There are up to 20 zoom levels are available, depending on the area.
Controls
A - Switch between a satellite view and a map view
X/B - Scroll up/down information on the upper screen
Y - Choose a place in the World Heritage list
Select - Switch between Map/Picture/Text (on the upper screen)
Start - Help
L/R - Zoom out/in
D-Pad - Scroll the world map, Scroll information (on the lower screen)
Stylus - Scroll the world map, Select a place on the map
Screenshots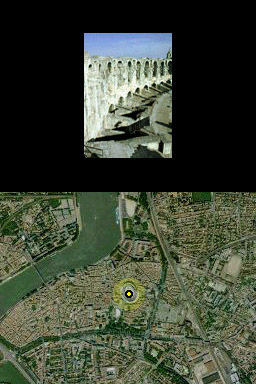 Changelog
v0.2 2007/08/19
By pressing A, you can now switch between a satellite view and a map view.
You can zoom on a site by clicking a second time on its location on the map.
Partially translated in French (about 80%).
Better looking map on the upper screen (less compression)
Bugfix: the zoom was not centered properly.
External links