The Sounds Of The Season
From GameBrew - a wiki dedicated to Video Game Homebrew.
The Sounds Of The Season
General
Author(s)
Sumiguchi
Type
Music
Version
14 Jan 2007
Licence
Mixed
Links
Download
Website

The Sounds Of The Season is a Christmans themed music homebrew game for the NDS.
This game was developed for the DrunkedCoders 2007 Xmas Compo came in 4th.
Features
6 different songs.
Help Mode (teaches you how to play).
Play Mode or Practice Mode.
Installation
Download and extract file.
DLDI patch it and copy it to your card.
This game uses SRAM to save results but you will be asked before it is formatted and used. If your device does not support it or you choose not to use SRAM, your scores will be cleared when the power is turned off.
User guide
Play to the rhythm to get the best score and more importantly, to make the nicest melody. There are many Christmas songs and you have to play them using the stylus.
In Practice mode, it runs the songs at 1/2 speed but the accompanying background music is not played.
Note: For best results play in a quiet area with the volume turned up or use headphones.
Control
Stylus - Select, Play
Start - Enter new song, Exit game
Screenshots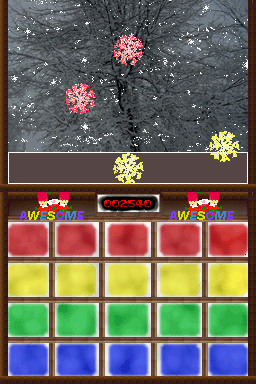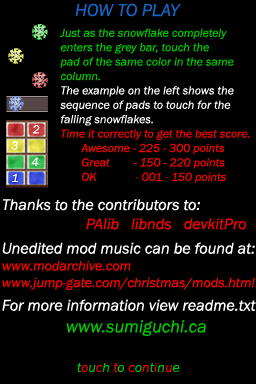 Media
The Sounds of the Season (TSOTS) - NDS Homebrew (Jeremy Smith)

Compatibility
The Sounds Of The Season only works on a real NDS (does not work on an emulator).
Credits
The mod music was modified to fit my game engine and to slow them down to a playable speed. The original un-edited mods can be found at:
This game would not be possible without DevkitPro, libnds and PAlib. Thanks to the contributers to these tools that make NDS homebrew possible and more accessible.
External links