The Detective
From GameBrew
The Detective Game
General
Author
Headsoft
Last Updated
2010/03/30
Type
Adventure
Version
1.00
License
Mixed
Links
Download
Website
Source
The Detective Game is a remake of the 1986 C64 game by Sam Monthorpe for the Nintendo DS. Characters were created by Paul Jay and the plot was cunningly devised by the Magnificent Seven.
Installation
EFS version is recommended for most people. If you are experiencing any problems with the EFS verison, try the FAT version. This game requires a DLDI patch compatible card to play.
EFS Version - Copy the included DetectiveDS.nds file to your backup card and play.
FAT Version - Copy the Data folder included in the archive to the root of your sd card. Copy the DetectiveDS.nds to anywhere on your card.
User guide
London, 1974. You are a famous Scotland Yard Detective who must solve the murder of the rich aristocrat Angus McFungus, who's body has been discovered at his home at 427 Park Lane. Arriving at the residence you soon discover that this will not be a simple open and shut case, and will take all your finely honed detective skills to solve. Can you put your finger on the killer?
You must collect 10 pieces of evidence (most are marked with a small E) and then guess the murderer. The evidence must be placed in the Padded Envelopes (which you will find in your room). You have 2 hours and 20 minutes to solve the case.
Control
D-Pad - Move Inspector Snide
A - Game menu
Start - Pause menu
L/R - Flip screens
Screenshots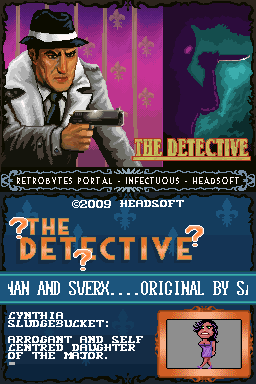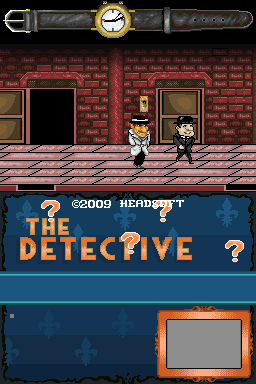 Compatibility
The game has been tested with the following emulations:
NOZ works well which enables bigger display size.
No$gba is recommended (require NDS BIOS ROMs).
DeSmuME (not require BIOS ROM).
iDeaS also works however audio will be compromised. (not require BIOS ROM)

Known issues
No autosave feature when using emulators, howver you can create save states which does the same.
Changelog
v1.00 2009/12/20
Credits
Code - Headkaze
Graphics - Lobo
Music - Space Fractal
Support - Flash
Testing - Sashanan & sverx
Wintermute for devkitARM, Chishm for libfat, Martin Koth for DSTek & No$gba, Eris & Noda for EFS/NitroFS. Also thanks go to LiraNuna, Blasty, Cearn, Dovoto, Joat, Dekutree, Elhobbs, Ruben, SimonB, DarkCloud and everyone on gbadev.org.
External links