Snake Dual Screen
From GameBrew
DSSnake
General
Author
edddy
Last Updated
2008/03/17
Type
Arcade Games
Version
2008
License
Mixed
Links
Download
Website
Snake Dual Screen is a snake game where player has to eat all eggs on the level before end of time.To make it harder chickens are added in some levels.
This homebrew was participated in to the NEO Spring Coding Compo 2008.
Features
Multiples way to move Snake: D-Pad, Stylus or DS motion.
Eat eggs, grow and watchout for chicken.
More than 20 levels, with normal and hard mode.
Save progess, hiscore and options.
Compatible with No$gba (no save but it works).
Installation
Download and extract file.
DLDI patch it and copy it to the root directory of the card.
Note: The game works fine without DLDI if save function is not preferred.
User guide
To win you have to control the snake and eat all eggs before time runs out.
Avoid touching the walls, itself or the chicken.
Controls
D-Pad/X/Y/B/A or Stylus or DS motion - Move the snake
Start - Pause the game
L/R - Restart level
Screenshots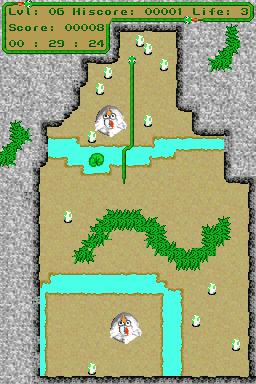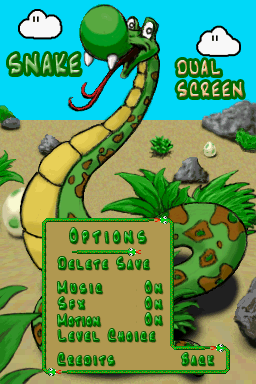 Credits
Concept, realisation, coding, design: edddy (Edouard Gautier).
Realsed with: PA Lib 080203 Community Release - BETA, DevKitPro, VisualHAM, Mappy 1.4 by Robin Burrows.
Music: (samples of) Johnny boy is alive! by Wonder (Guillermo Simmross Wattenberg).
External links