Qix
From GameBrew
Qix
General
Author
René C. Kiesler (Rck)
Last Updated
2008/08/31
Type
Demos
Version
0.1
License
Mixed
Links
Download
Website
Qix is a simple line animation, created based on the original Qix by Taito. The arcade version of Qix has been released in 1981 and cloned a couple of times. The original Qix involves drawing rectangles in attempts to limit the space of a line animation.
This version of Qix just shows the line animation, to start and stop the animation as well as limit the space the animation can use.
Installation
Download and extract file.
Put the .nds file and this .txt on the card.
User guide
As soon as the application is launched, you will see the current settings on the top screen and the Qix animation, along with the limiter, on the bottom screen.
Controls
Start - Pause, Unpause
Up/Dpwn - Adjust upper limit
Left/Right - Adjust left limit
Y/A - Adjust right limit
X/B - Adjust lower limit
Screenshots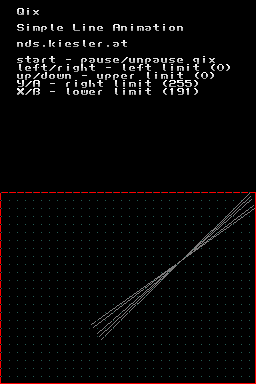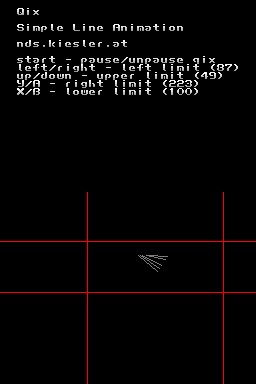 Known issues
Version 0.1:
Has a similar graphics-memory problem like PolyTouch.
When you start Qix, you should immediately see a cyan dot pattern. This pattern is not supposed to be there.
If you set the left limiter to 32 or higher values, the dot pattern disappears
If you set the lower limiter to exactly 160, the whole screen is filled with cyan lines - nothing else can be seen.
Changelog
0.1 2008/08/31
White Qix animation on black lower screen.
Red limiters on lower screen.
Limiters can be changed via D-Pad.
Animation can be paused/unpaused with the Start button.
Credits
This project would not be possible without palib.info (Qix is based on PAlib) and its forum.
External links