Ps2jpg GBA
From GameBrew
ps2jpg
General
Author
moonlight
Last Updated
2005/01/16
Type
Plugins
Version
0.02
License
Mixed
Links
Download
Website
ps2jpg is a JpegViewerPlugin for Game Boy Advance that runs on PogoShell. Comes with a ROM building tool.
Note: Only works with PogoShell 2.0b3/b4.
Features
Reading up to approximately 2000x2000 pixels.
Instantaneous start-up with progressive image loading.
Scroll by MCU.
50%/100%/125%/150%/175%/200% scaling display.
Intelligent scroll bar.
Installation
Copy jpg.bin under PogoShell2\root\.shell\plugins\.
Open PogoShell2\root\.shell\pogo.cfg with notepad, then add this line jpg 6 jpg.bin 0
User guide
There are a lot of JPEGs that does not work. Specifically, JPEGs other than YUV411/YUV111/YUV100 cannot be displayed.
A re-encoding tool (ps2jpg_linker.exe) is attached, please try it your images are not showing up.
Also there is no no settings/options menu. SRAM memory for saving is not used either.
Controls
Image viewer:
D-Pad - Scroll screen
A/B - Zoom out/in
Select - Status
Start - Reload
L+R - Back to PogoShell
Screenshots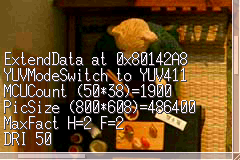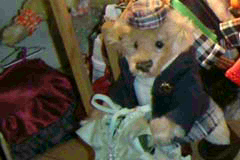 Changelog
Version 0.02 2005/01/16
Enabled to select PogoShell return code from automatic recognition/Visoly(F2A) system/XROM system.
Version 0.01 2005/01/07
Fixed Jpegs smaller than screen still had bugs.
Added 50%/100%/125%/150%/175%/200% scaling modes.
Fixed incorrect interpretation of RestartIntervalDelay.
Added support for reading grayscale images.
Version 0.00 2005/01/04
Fixed jpegs that were smaller than the screen had garbage in them.
Slightly speed up MCU seek and DCDiff return.
Fixed a bug that can not return to PogoShell.
External links