ProteinDS
From GameBrew
Protein DScratch
General
Author
gorgull
Last Updated
2009/01/22
Type
Music Apps
Version
2009
License
Mixed
Links
Download
Website
Source
Protein DScratch (aka Protein[DS]) is an audio manipulation software running on Nintendo DS, which ables you to manipulate audio, anywhere you go - it is in some ways similar to ElectroPlankton concept.
Using Protein[DS], you can play with up to 4 modules at the same time to create a live music set and control external applications, using the touchscreen, audio in/out levels, midi-out, and even motion-control. You can even play with live-recorded audio sample.
Features
Up to 4 performance modules at the same time.
WAV samples or recorded audio support.
File browser with audio preview feature.
Microphone sample recorder.
Quick access menus.
Touchscreen control.
Audio levels control.
Motion sensor control.
Wireless midi-out control.
Installation
Download and extract file.
DLDI patch .nds file and copy it to the root directory of the card.
Copy /ProteinDS/ directory at the root of cartridge's filesystem.
Place your own samples in /ProteinDS/Samples/ cartridge directory (optional).
User guide
Title screen:
The screen appears at startup.
DScratch module:
A turntable that lets you play with wav, recorded samples, or even live audio from microphone.
You can scratch, pitch, apply effects, cut volume etc.
DSamples module:
For the moment, this module only lets you play a wav sample by hitting a key.
DSControl module:
A basic implementation of a MIDI controller using both the touchscreen for MIDI cc, and keypad for MIDI notes.
Sample-Recorder tool:
This tool records samples from the DS built-in microphone.
The total recording time is set to 20 seconds. Recorded samples can be recorded to disk (cf Configuration/Setup Save).
Sample-Browser tool:
You can browse through your samples-directory (cf tips), preview a sample, and finally load one within the caller module.
Controls
Uses Stylus.
Start - Access to the main options, state save, main config.
Select - Choose a module
D-Pad - Choose one of the four modules
L/R - Back to any module
Screenshots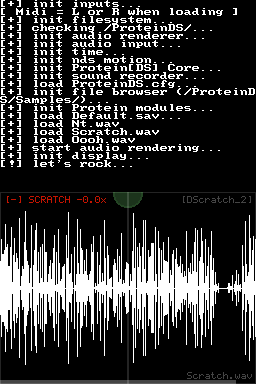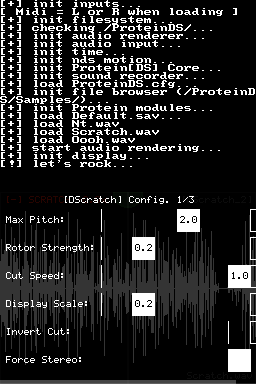 Media
Protein[DS] - Chainsaw Massacre BirthDay Party demo (Pierre Guilluy)

Protein[DS] freestyle demo1 (Pierre Guilluy)

Protein DScratch - 2 - by Gorgull (Pierre Guilluy)

Protein DScratch by Gorgull (Pierre Guilluy)

Compatibility
Tested on TTDS/DSTT (firmware 1.17).
Known issues
Waiting for a new implementation, using DualScreen mode only allows 30fps, plus the two screens may flicker - deactivating DualScreen gives you 60fps, which is a lot better for scratching!
DScratch may not be able to play big files backward: crossing the end/beginning sample's edge backward way lock the audio engine due to a too long file access. It seems like NDS filesystem is too slow when seeking point is too far.
Midi may fail to init when using DSMidiWifi on some computers (only tested on Mac for the moment, other os reports are welcome).
Audio engine may lock at some point while using MIDI.
Changelog
2009/01/22
[DScratch] Graphical parameter panel - no more infernal xml editing/testing.
Global options graphical parameter panel.
State-save added.
Recording-save added.
Little [DSamples] update.
Better stability.
2008/05/22
Proof of concept v080522 of now called Protein[DS].
2008/01/22
A special Beta-Deltav080122 of Protein [DScratch].
Credits
Conception/Realisation:
Sound samples:
Protein[DS] uses other different projects (thank you guys):
Special thanks:
M-.-n, author of LGPT, for his advices especially in digital audio programming.
bigups to makunouchi bento & [XC3N] for their testing on stage.
External links