Pocket Island
From GameBrew
Pocket Island
General
Author
MJaoune
Last Updated
2011/10/02
Type
Simulation
Version
0.95
License
Mixed
Links
Download
Website
Pocket Island is a DS port of the simulation game Pocket God.
Installation
Download extract the latest version.
Move the .nds file found after extraction to your flashcart (can be renamed).
DLDI Patch the game if your card doesn't auto-patch.
If it didn't work after DLDI patching, you can try to use Homebrew Menu to start the game.
User guide
You can have up to 3 inhabitants on the island, manipulate the weather, summon a ninja and Meteor.
Screenshots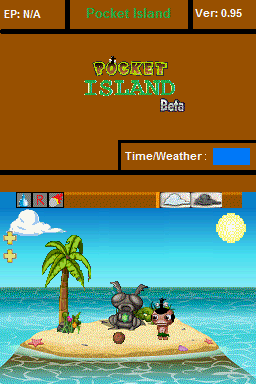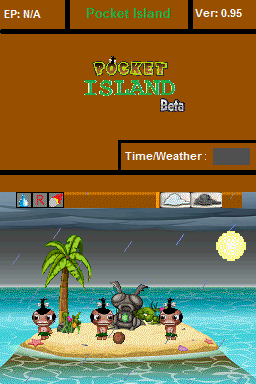 Compatibility
Tested on:
R4 (Compatible)
DSTWO (Compatible)
N5 (Compatible only with the FAT version)

Changelog
Version 0.95 October 2011
Removed many unneeded stuff in RAM.
Added a Meteor to the killing list.
Added a Coconut that can hit the Pygmie on the head (on the top of the pygmie's hair).
Many GUI modifications.
Added more sounds.
Fixed many bugs and glitches (were detected by Nathan).
Released a FAT version.
Version 0.94 September 2011
Changed the audio library to Maxmod, to save RAM and CPU.
Fixed loads of bugs and glitches (were detected by Nathan).
Some UI changes.
Fixed the screen flicker problem on some flashcarts.
Some other changes.
Credits
MJaoune (Developer + Programmer).
Nathan (BETA Tester + Supporter).
External links