Pixel Shuffle 2DS
From GameBrew
Pixel Shuffle 2DS
General
Author
Cid2mizard
Last Updated
2015/11/01
Type
Puzzle
Version
1.1
License
Mixed
Links
Download
Website
Pixel Shuffle 2DS is the adaptation of the puzzle game Pixel Shuffle for Nintendo 2DS/3DS.
Installation
Available in CIA, 3DS, and 3DSX formats.
3DSX - Use the .3dsx provided with the Homebrew Launcher.
CIA - Copy .cia to your SD card and install it with the CIA manager of your choice.
3DS - Copy .3ds to your SD card.
User guide
Rearrange the columns to reveal the picture.
The game contains 81 puzzles with 3 difficulty levels:
Easy - No time limited with view solution.
Medium - Time limited with view solution.
Hard - No view solution.
Controls
Menu:
C-Pad/D-Pad or Stylus - Choose level
L/R - Next/Previous page
A or Stylus - Begin level
In game:
Stylus - Shuffle
L/R - View solution
Y - Re-Shuffle
B - Return
Select - Exit
Screenshots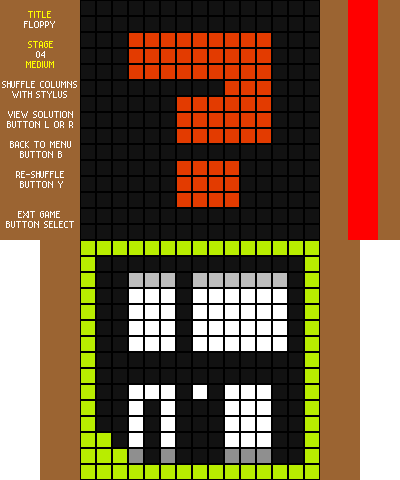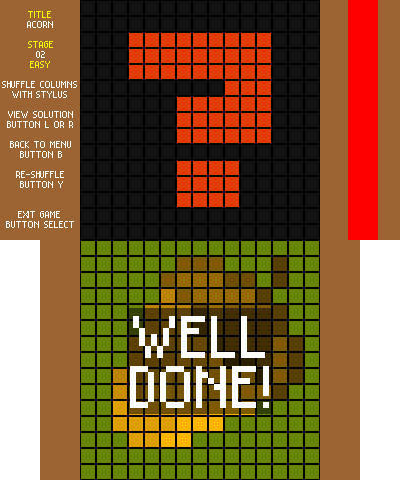 Media
Pixel shuffle all levels (Nastybeanlady)

Changelog
v1.1
Update ctrulib, now exit works with ninjhax 2.5.
v1.0
Initial Release.
Compatible Gateway, CFW, Ninjhax 1 & 2.
Credits
smea for Ninjhax.
smea, yellows8, plutoo, fincs and mtheall for ctrulib.
smea, mtheall, GEMISIS, Fluto and Arkhandar for hbmenu.
WinterMute for devkitARM.
Xerpi for sf2dlib and sftdlib.
SavingCleo (savingcleo.deviantart.com) for palette.
http://gbatemp.net/ for Forum 3DS Homebrew community.
External links