Persona Q Save Editor 3DS
From GameBrew
Persona Q Save Editor
General
Author
Dasanko
Last Updated
2019/04/16
Type
Hack Utilities
Version
1.3.1.0
License
Mixed
Links
Download
Website
This is a save editor for Persona Q: Shadow of the Labyrinth. It allows you to edit the character's HP, SP, stats, experience, level, name (P3 and P4 MCs only), the inventory, the key items inventory and the gold.
There's also a feature to completely fill the Enepedia and another to replace all currently equipped weapons and armours with the best ones for each character.
User guide
If you're playing on an actual console, decrypt and extract the save file (001SAVE, 002SAVE or 003SAVE) using something like JK's SaveManager.
If you're playing on an emulator, such as Citra, the save file shouldn't be encrypted and work as-is. The save data location for Windows is located inside %appdata%\Citra\sdmc.
Screenshots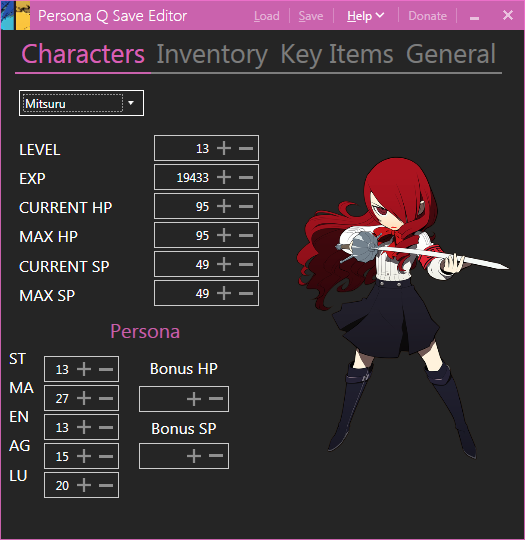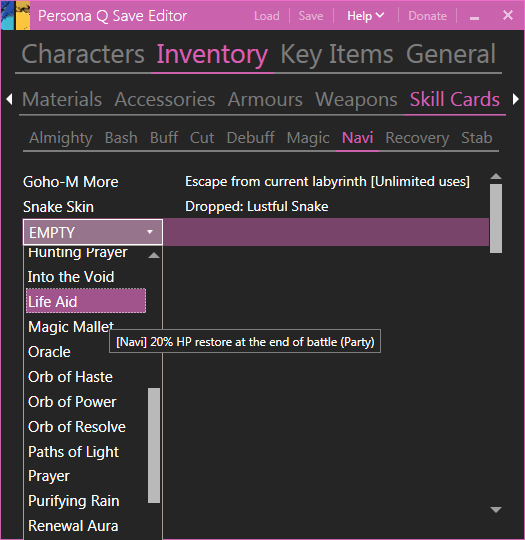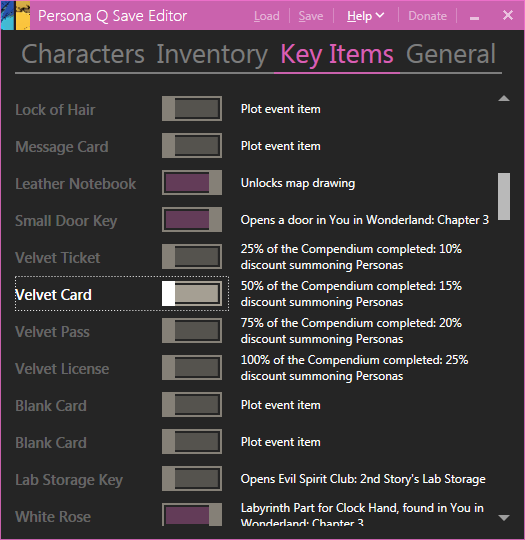 Changelog
1.3.1.0
Implemented sub persona exp editing.
1.3.0.1
Fixed periods in character names not being properly parsed.
1.3.0.0
Non-word characters in names are now allowed.
1.2.1.0
Fixed a bug preventing the Sub Persona Bonus HP/SP editing from working.
1.2.0.0
Added support for Sub Persona editing (both the Persona and its skills).
1.1.0.0
Added a 100% map generation feature. Thanks to ngtunganh from GBATemp for making this possible.
1.0.3.0
Added the missing Curse Sword (P3MC), as well as an additional check to prevent crashing in case of an equipped item being missing.
1.0.2.0
Added Zen to the character list.
1.0.1.0
Fixed a bug caused by the wrongly tagged character identifier field.
1.0.0.0
External links