Nyan Cat 3DS
From GameBrew
Nyan Cat
General
Author
markwinap
Last Updated
2015/05/28
Type
Other Games
Version
beta
License
Mixed
Links
Download
Website
Source
Nyan Cat, also known as Pop Tart Cat, is an 8-bit animation depicting a cat with the body of a cherry pop tart flying through outer space. While absurd themes like flying kittens and pastry cats have been around for some time, the surreal humor behind this particular combination has captivated YouTubers and online art communities, spawning fan illustrations as well as user-interface designs and homebrew games across multiple platforms.
This is a port of the Non-Stop Nyan Cat using LIBSF2D.
Installation
Available in 3DSX and CIA formats.
CIA - Copy the audio folder to the root of your SD card, then install the .cia with a title manager.
3DSX - Copy the nyan_cat folder to the 3ds folder of your SD card, then run it with the Homebrew Launcher.
User guide
Nyan Cats Order
Original.
Mummy.
GB.
Jamaicnyan.
Pikanyan.
J5.
America.
Grumpy.
Zombie.
Slomo.
Sad.
Jazz.
Tacnayn.
Technyancolor.
Dub.
Balloon.
Controls
D-Pad Up/Down - +/-2 Cat Selection
D-Pad Right/Left - +/-1 Cat Selection
A - Select Random Cat
X - Select Last Cat
Y - Select First Cat
Screenshots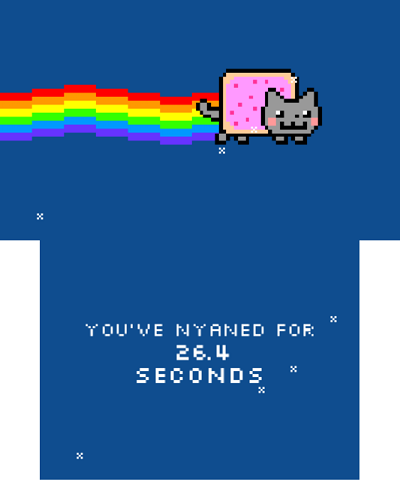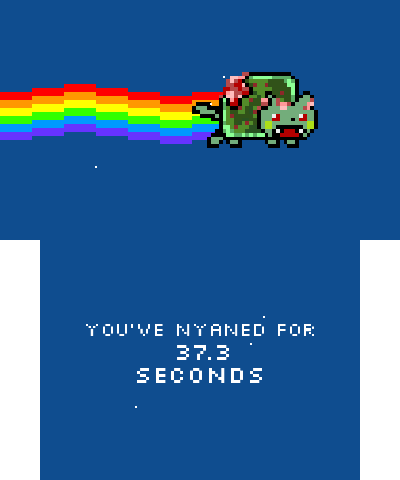 Media
3DS Homebrew - Non-stop Nyan Cat port Update 05-26-2015 (CloudLove)

Changelog
2015/05/26
3D slider is now working to select 3D depth.
Added Ballon Nyan Cat.
Re added 3D affect to all Nyan Cat.
Start Random Cat on boot.
Added new controls.
2015/05/13
Change Sound loading method to load from file.
Change audio sample rate to 32000, remixed most of the song to better fit audio loop mode.
Added gb, technyancolor, jazz, j5, pikanyan, zombie, mummy, jamaicnyan, america, slomo, sad, tacnayn.
Error: New error will loading sound or loading new texture. ( meed to work on it) exit app and restart to resolve issue.
2015/04/29
Finally, fixed sound issue on exit, thanks "elhobbs" for the info. Set max value for counter to 99999999.9 Secs.
2015/04/25
Added 3D (popping effect) Thanks Technicmaster0 for the guidance.
Credits
markwinap.
Smealum - Ninjhax and CTRULIB.
Xerpi - sf2dlib.
WhoAmI? - Biggest supporter.
External links