Njam3ds
From GameBrew
Njam3ds
General
Author
nop90
Last Updated
2016/08/14
Type
Arcade Games
Version
1.0 alpha
License
Mixed
Links
Download
Website
Source
NJAM3DS is an open source pacman-like game ported to 3DS, with a lot of levelset and challenging gameplay. The orignal Njam is well known for it's distributions on linux and has been ported on many platform.
In this port, only the single player mode is included and level editor is disabled. Also in order to adapt the screen resolution from 800x600 to 400x240, the graphics are changed (using free images found on Google).
Installation
In the zip there is a folder with the 3dsx and the smdh files inside, to be used with the Homebrew Launcher.
All the resources are included in the executable using romfs.
The game creates a Njam3ds subfolder inside the 3ds folder if doesn't exist.
Controls
D-Pad - Move
A - Select, Change options
B - Pause, Restart
Start - Exit
Screenshots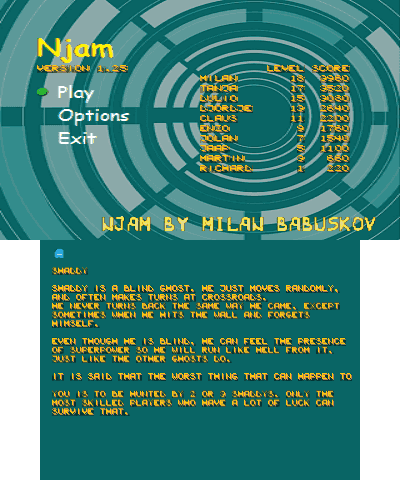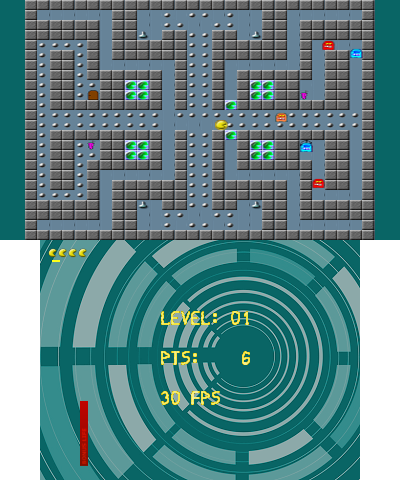 Known issues
The pause does not work properly.
The cfg file is saved in the wrong position.
Changelog
V1.0 alpha 2016/08/14
Credits
The original game Njam is made by Milan Babuskov.
This game uses the sf2d and sfil libraries created by @xerpi.
External links