NDS Sichuan
From GameBrew
NDS Sichuan (SHISENSHO)
General
Author
MeRAMEN
Last Updated
2010/05/29
Type
Puzzle
Version
20100529
License
Mixed
Links
Download
Website
NDS Sichuan is a DS homebrew puzzle game that uses Mahjong tiles, with 4 difficulty modes and Wi-Fi leaderboard.
Installation
Download and extract file.
DLDI patch it and copy it to the root directory of the card.
A save file gets created on the root of your card called nds_shisensho.nv. If having this file on the root irritates you then it's fine to move it to a different folder.
User guide
The aim of the game is to clear the tiles by matching up pairs. Tiles can only be chosen from the one on the edges. Match two tiles by connecting two tiles with a line without more than two turns.
There are 4 game modes:
Beginner.
Easy.
Normal.
Hard.
In addition it has a Wi-Fi leaderboard where you can download the top 10 best times and compete against them in a challenge mode. If you manage to get in the top 10 you can upload your data over a Wi-Fi connection for others to download and challenge. In challenge mode, you can challenge top ranking players in the same arrangement.
During the game you can use Help and Back as many times as you like, it remains in the record but the number will not affect your ranking.
Screenshots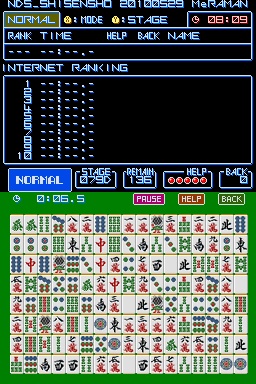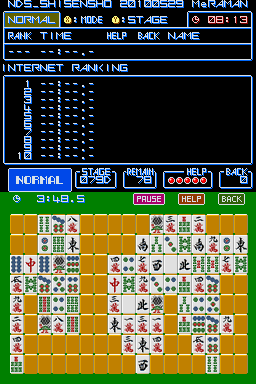 Changelog
20100529
Fixed a couple of small bugs in the WiFi code.
External links