MunchiToy
From GameBrew
MunchiToy
General
Author
HakoByte
Last Updated
2011/06/06
Type
Demos
Version
2.5
License
Mixed
Links
Download
Website
MunchiToy is a Physics Demo which allows you to manipulate character Munchi in using the microphone and the stylus (not implemented yet).
This homebrew was an entry of the homebrew bounty from GBAtemp in 2011.
Installation
Download and extract file.
DLDI patch .nds file and copy it to the root directory of the card (optional).
Screenshots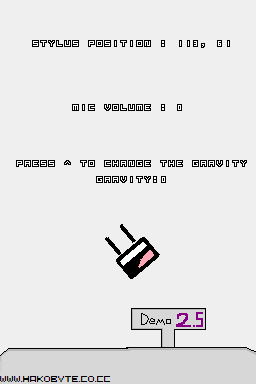 Compatibility
This demo will lose lots of features if used on emulator. May crash on NOS$GBA.
It is recommenced to use on an actual DS. Can be run on DS/DSL/DSI/XL/3DS.
Changelog
DEMO 2.5 2011/06/06
Minor bug fixed (Munchi hits ground).
Microphone recording (WIP/Unstable).
DEMO 2
Fixed collision bugs in the physics world.
Add collision for Munchi.
Changed backgroung.
Added second Munchi (Demo 2, 2 Munchi's).
Implement gravity manipulation.
Debug.
DEMO 1 2009/11/01
Credits
Programming and Spirits:
SPECIAL THANKS:
GBATEMP
DS-SCENE
FREINDS AND FAMILY
YANNICK - TESTING AND SUGGESTIONS
External links
GBAtemp - http://gbatemp.net/threads/munchitoy-demo-2-5-wip-ds-entry.294710