Missile Command DS
From GameBrew
Missile Command DS
General
Author
B. Perry (Kayvon)
Last Updated
2009/02/08
Type
Arcade Games
Version
2009
License
Mixed
Links
Download
Website
Missile Command DS is a port of the classic Missile Command game, rewritten for the Nintendo DS.
Installation
Download and extract file.
DLDI patch it and copy it to the root directory of the card.
User guide
Shoot down the incoming missiles and protect your cities.
Earn a new city every 10,000 points or, if you already have all 4, get a huge point bonus.
Most modern cards do this automatically, but if you don't see high scores showing up, you need to manually DLDI patch.
The scores are stored in the /DATA/ directory, if one exists. Otherwise they're stored in the root directory.
High scores are automaticlly saved if you have DLDI patching.
Controls
Stylus - Shoot
Start - Start game
Screenshots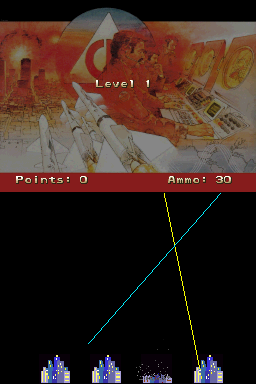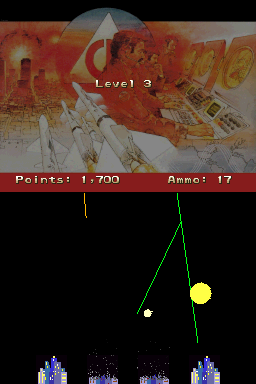 Compatibility
Tested on:
M3Real (firmware 4.2d)
DSTT (firmware 1.15)

Changelog
UPDATED 2009/02/08
All Rumble Paks should be supported now.
Added "heartbeat" rumble to missile launches.
UPDATED 2008/10/28
Rumble Pak now supported.
Flash cart icon created.
Minor bug fix.
External links