Miniville DS Manager
From GameBrew
Miniville DS Manager
General
Author
Sébastien Thon (Stravingo)
Last Updated
2008/05/01
Type
Simulation
Version
0.3
License
Mixed
Links
Download
Website
Miniville DS Manager is a little utility to help you manage your virtual city created on the online web game Miniville or Minicity by Motion Twin. It helps managing your virtual city on NDS. You can now easily manage your city anywhere, in the street, at school, at a restaurant, as long as there is WiFi.
See www.miniville.fr or www.myminicity.com for explanations about the game. It's available in English, French and Spanish.
Installation
Patch the ROM with DLDI.
Put the files Miniville_ds_manager.nds (or Miniville_ds_manager.ds.gba) and miniville_ds_manager.xml in the same directory.
Wifi is mandatory.
User guide
The goal of Miniville or Minicity is to develop cities, from a shed lost in the countryside until to sprawling mega-cities that extend their asphalt and concrete on several screens.
Everything is done by managing six elements with care: population, industry, transport, security, environment and businesses. Initially, you only have the possibility of increasing the population, but other actions will be unlocked gradually as your population grows.
You can view the stats of any city, maintain a list of favorite cities to act on 6 ingredients (but only once a day for a city), to send a signature Antiville (petition to send a missile at a city).
Controls
Operate with Stylus.
Screenshots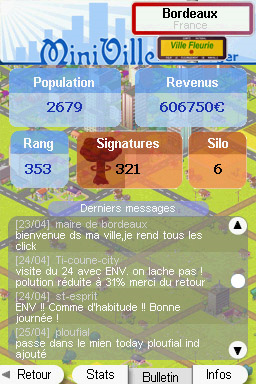 Media
Miniville DS Manager v0.1 (Sébastien Thon)

Changelog
v0.3 2008/05/01
You can now read the news bulletin of a city.
You can read the latest Antiville news of a city (only for Miniville, as it is not possible to launch missiles on Myminicities).
A "Ville fleurie" panel is displayed on the upper screen under the city panel, with a various number of flowers, when the city has enough environment points.
More sound fx.
v0.2 2008/04/19
Multilingual version: English, French, Spanish.
Management of Minivilles (original french version) and Minicities (International version)
You can read the latest news about a city.
Favourite cities are now displayed in alphabetical order.
Some minor graphical modifications.
NDS file size is reduced by 30%.
External links