Minicraft3DS - The Multiplayer Update
From GameBrew
Minicraft3DS - The Multiplayer Update
General
Author
andre111
Last Updated
2018/02/08
Type
Action
Version
1.5.2
License
Mixed
Links
Download
Website
Source
Minicraft 3DS Homebrew Edition - The Multiplayer Update is a continuation of DavidSM64's Minicraft 3DS with bugfixes, varies improvements and a new multiplayer mode.
User guide
In this new version you can play together in one world using local wireless multiplayer.
The maximum supported amount of players is 8 (tested by the author).
The character customization is basically recolors for now.
Controls
D-Pad or Circle Pad - Move
A/B - Attack, Use items
X/Y - Open your inventory, Use a workbench
Screenshots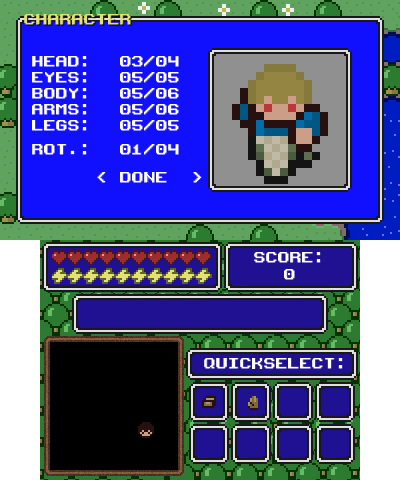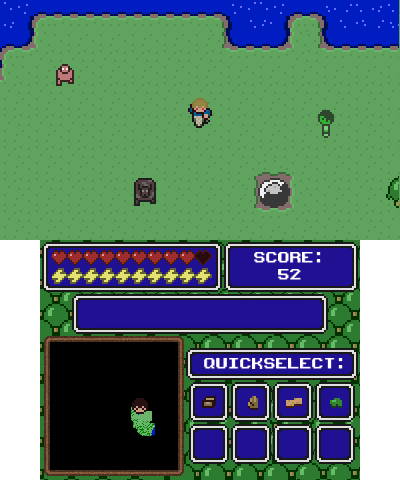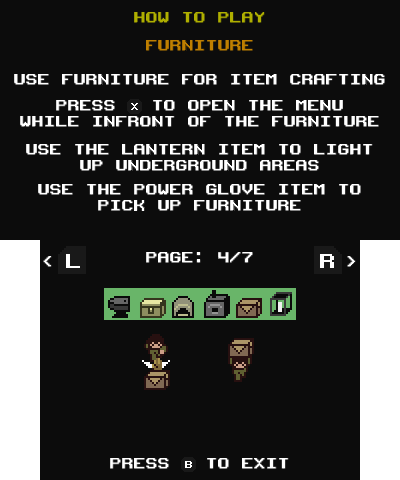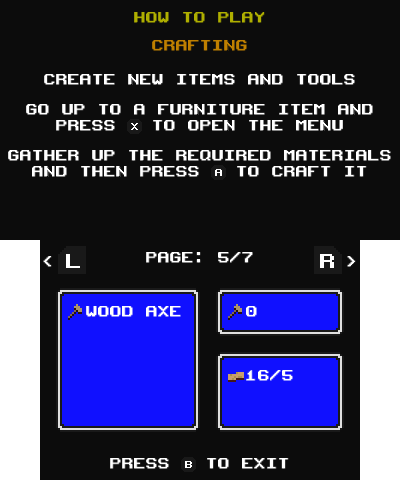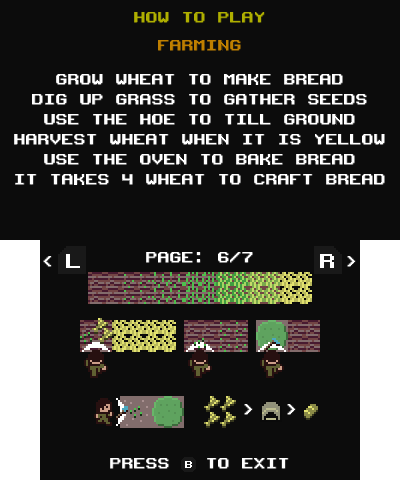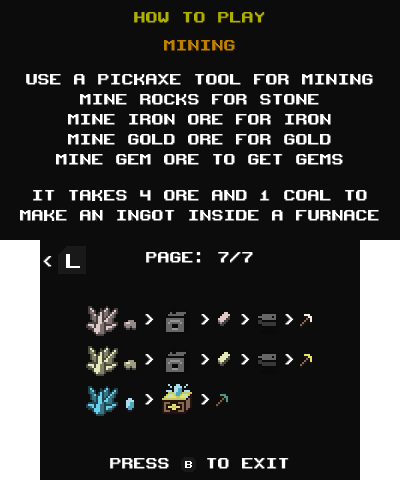 Changelog
v1.5.1
Fix Multiplayer for more than 2 players.

At least on Citra and quite hacky.
Join Menu still shows wrong player count, but this affects nothing.
v1.5.0
Local Multiplayer (Tested with 2 Players, in theory supports up to 8).
Character Customization.
Technical: New Save File Format, this means old saves with NOT work.
From previously unreleased Versions:

Seasons and Weather.
Code for NPCs and Quests (very much a WIP).
New Tiles and Items.
v1.2.2
Fixed Sound stopping issues (can't speak for the cia builds, currently have no 3DS to install them on).
v1.2.1
Added new Boss to Dungeon.

Surrounded by a magical Barrier, break all Magic Crytals in the Dungeon to destroy it.
Currently drops new Items, but they have no use yet.

Map now needs to be discovered.

Increases savefile size to about 180kB.

Arrows shot by the player now drop to Itemform if they hit a wall.
Made Mainmenu BG animated.
Reworked Tilesheet.

Yes, I broke texturepacks AGAIN (should hopefully be the last time that happens).
No more autocoloring for Maptiles (hopefully this makes some of you happy).
Sepperate sprites for every type of tile.

Fixed smdh and Icon+Title in Homebrew Launcher.
v1.2
Added 3 passive mobs: Sheep, Pig, Cow.
Added 2 aggressive mobs: Skeleton, Knight.
Added mob drops: Wool, String, Raw Pork, Cooked Pork, Raw Beef, Steak, Leather, Bones (more uses for the items are planned).
Added Loom and Enchanter Craftingstations (more recipes will folow).
Added more Walltypes: Stone, Iron, Gold and Gem.
Added Bow and Arrows.
Air Wizard can be resummoned and drops Dungeon Keys.
Added Dungeon.

Can only be entered using a Dungeon Key.
Saving is disabled in the Dungeon.
Once you leave it it dissappears and when you enter it again it will be a new Dungeon.
Right now it sadly doesn't contain anything really worth it (but it does give access to renewable Ores).

Added Day and Night Cycle.

Added Fireflies.
No real impact on Gameplay (yet).

Added footprints on sand.
Added Inventory/Crafting Titles.
Added small speedhack to lava lighting (o3DS still drops when there is a lot of lava on screen, n3DS stays on 60 FPS now).
Fixed Light on lava being of center.
Fixed Air Wizard Projectiles sometimes breaking like everything.
External links