Mental Games
From GameBrew
Mental Games
General
Author
Pitt, Mollusk, and Zeblackos
Last Updated
2007/08/21
Type
Arcade Games
Version
2007
License
Mixed
Links
Download
Website
Mental Games is a compilation of quick little games that ask for either nice Stylus skills or tons of concentrations.
Some are remakes of pre-released DS games, some are adaptations of flash games, and others are completely new and original (generally the most brain-torture oriented games). The global graphics chart is pretty much Black and White, though a few games do not follow perfectly.
It was participated in the NEO Summer Coding Compo 2007.
Installation
Download and extract file.
DLDI patch it if needed and copy it to the root directory of the card (DLDI patch is optional, which will allow you to save your high-scores).
User guide
It contains the following games:
ReRun - Catch all the balls of the same color as your cursor. Once this is done, you'll have to replay the same level as a different color.
Chain Reaction - Sponsored by the National Uranium Group (NUG), create as big chain reactions as possible with a single detonation.
Mental Pong - Classic pong? No.
QuadBrain - Ever tried to move around 4 objects at the same time?
Danger Zone - CarreRouge revisited.
3210 - How many balls can you break? Careful though, each one will spread out to take as much room as possible.
BallBreaker - The whole point is to find out how to explode all the balls without ever touching one of them.
MixedMinds - Try to keep your brains straight, if you can.
Follow - Simplest game ever. Just try to keep the Stylus at the same level as the circle on the other screen. Great reflexes needed!
Double Skill - What if Arkanoid was mixed with a balance game? And what if it was actually 2 games, on 2 screens, both controlled with a single Stylus?
Controls
Operate with Stylus.
Screenshots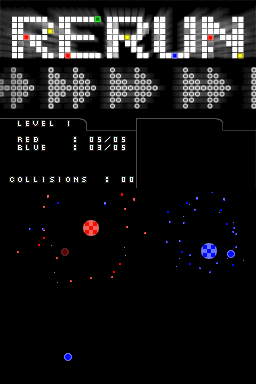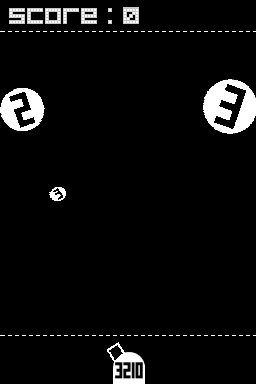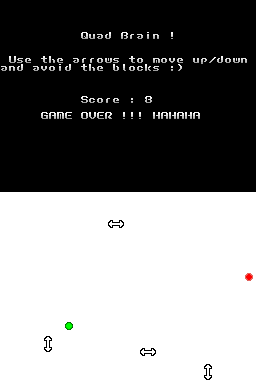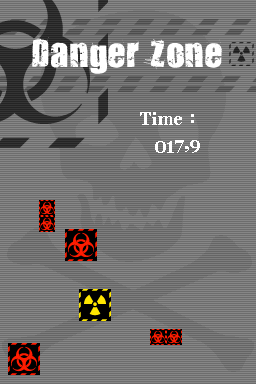 External links